Hold on to your hats, horror lovers! SDCC 2021 has some great horror content this year, including a fantastic panel for the new season of Slasher — Slasher: Flesh & Blood! The panel was hosted by Meagan Navarro, lead critic for Bloody Disgusting. The panel consisted of Slasher creator Aaron Martin and showrunner Ian Carpenter along with actors David Cronenberg (Spencer Galloway), Paula Brancati (Christy Martin) and Rachel Crawford (Grace Galloway).
RELATED: Keep up with our SDCC 2021 content!
This will be the fourth season of the horror anthology. This season focuses on a family getting together for a … special competition. We finally got a look at the upcoming season in a brand new trailer that premiered during the panel and let me tell you, it looks intense!
According to Martin and Carpenter, there are a ton of creative kills and blood in this season. The two reminisced about spending last summer, socially distanced on Martin's porch, talking about new and unique ways to kill people. Martin revealed there were some kills he couldn't even look at during filming.
Slasher: Flesh & Blood Characters
Crawford, who plays Grace Galloway, the stepmother of the family, said she saw her character a little differently. She noted there is a difference between the stepmother and the second wife, and she saw Grace more as the second wife. Crawford viewed Grace as, "I'm the wife that's going to get it right." Cronenberg, who plays the family patriarch, Spencer Galloway, concurred that was the way Spencer saw Grace as well.
Brancati is a Slasher alum who has been with the show since the first season. This time around, she's playing Christy Martin, an outsider to the Galloway family. Her character married into the family. Brancati noted that her character "doesn't know who her allies are."
Slasher: Flesh & Blood promises to be another home run for the series, and I can't wait until it premieres! You can watch the trailer for the new season as well as the full SDCC 2021 panel below. 
Slasher: Flesh & Blood will debut on August 12, only on Shudder. 
SDCC 2021: Netflix Geeked FEAR STREET TRILOGY Panel Discuss Favorite Kills and More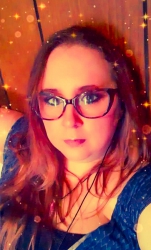 Latest posts by Becca Stalnaker
(see all)