It's probably safe to say that Henry Cavill is an international treasure who must be protected at all costs. The actor, mostly known for his roles as Superman in the recent DC movies and as the brooding Geralt of Rivia in Netflix's The Witcher, is an avid gamer. He did his time in World of Warcraft, and has recently gotten into Total War: Warhammer 2.
Therefore, it's no surprise that he would post a video of himself building his new gaming PC while Barry White plays in the background on his Instagram page. 
There is something about this that hits differently for me. I just recently had a new gaming PC built, and watching the Man of Steel handle his Ryzen 9 processor was an anxiety-inducing experience. Cavill's not kidding when he says that those gold pins are sensitive and that you "gotta be gentle." But his big, muscular hands handled it with skillful precision. Unlike me, who had to deal with bent pins the first go-round.
RELATED: Tuck in and Let Henry Cavill Gently Read The Witcher to You
Enjoy this five-minute video and marvel at Henry Cavill's persistence in putting this PC together. He does his best to blur out the component names, but there is no hiding the fact that he is using a Ryzen 9 with a GeForce RTX 2080 TI graphics card on an ASUS ROG Crosshair VIII Hero motherboard (fitting). He's also using a NZXT Kraken X73 Liquid CPU Cooler and two sticks of G.SKILL TridentZ RGB Series 32GB RAM (I assume it's 32GB). And he puts all of this in a sleek Fractal Design Define 7 Mid-Tower case.
And yes, he opted for all the RGB lights. 
RELATED: Toss a Coin to These Fabulous Witcher Covers
This article was originally published on 7/16/20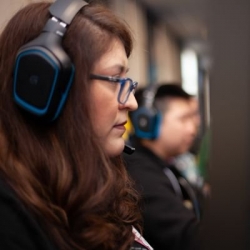 Latest posts by Renee Lopez
(see all)