If you're in the market for a new indie title to try, and you're into fantasy-based survival games then Rend might be the game for you. First announced in 2017, Rend is the first game coming out of Frostkeep Studios, an indie studio that was created in 2016 by three former World of Warcraft developers.
With the upcoming release of the game, Frostkeep Studios hopes to reinvent the survival game genre. By incorporating PVP and PVE style gameplay, player factions, win/loss conditions, and RPG and sandbox elements, players will be fully immersed in this vast, open world.
"We are huge fans of the survival genre and are delivering an in-game experience that the community and our own team wants to play," said Jeremy Wood, co-founder and CEO, Frostkeep Studios in a press release. "We value player feedback and want them involved from the very beginning so they can influence the future direction of Rend as it heads into early access this year."
At the start of the game, players will have to choose between 3 factions: Conclave, Order, and Revenant. Throughout the game, players will need to team up with their allies to fight hostile factions and creature enemies (the Lost). There will be some player choice in the game: you can choose to harvest crops, gather or craft materials, or play a more in-depth assassin, soldier or hunter role. Each faction has control over a World Tree and Divinity Stone and during a weekly server event called The Reckoning, factions will need to defend their World Tree. Players will also have access to a faction base that will require upkeep and expansion.
RELATED: Binge Drink Your Way out of Hell in This Afterparty Official Teaser Trailer
There will be capture points on the map that can be taken control of by any faction. These neutral points will make expansion possible. There will also be meta progression that is dependent upon a player's participation in the server events. Since it a survival game, there will be a massive crafting component in the game, which will allow players to master recipes and craft even better items. The weapon system will also feature a customizable path for all weapons. In addition, there will be a talent system and skill system that will give players the freedom to customize their characters based on their unique style of play.
If you want to find out more about Rend, check out the website. Frostkeep Studios is currently looking for players who want in on the Early Alpha, so now is the time to sign up. You can also watch the Rend trailer from 2017 below.
Rend is scheduled to be released this year (possibly within the next few months) for PC.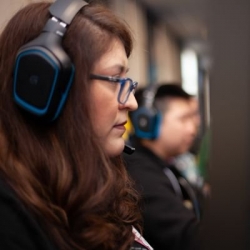 Latest posts by Renee Lopez
(see all)