Welcome to this week's installment of F2P Friday, where we highlight our favorite Free-2-Play games. The video game market is oversaturated, and sometimes, hidden gems fall through the cracks. This is where we dig for you and feature a new F2P game we know you will enjoy every week. Let's dive in!
Shiner
Fang is a bunny-like creature with a score to settle against the bully who crushed your nestmates. Help Fang overtake enemies and learn their abilities on his quest for a rematch. The sweet taste of revenge is just a knuckle sandwich away.  
RELATED: Check out more from our F2P Friday Series!
The Basics
Let's get down to basics. Shiner is a charming turn-based strategy game where you learn all the attacks of the enemies you beat. You'll play as Fang and start the game with only a basic punch ability. Shiner isn't all brawn though, you'll need some brain to solve the puzzle elements and defeat the enemies in the correct order to collect their attacks to advance the story.
While the gameplay style is fairly straightforward, you'll need a level of strategy to get through it unscathed. Fang will learn an array of attacks, but you can only bring a max of four of them into each fight. Be prepared for some trial and error as you work out the order to fight your way through. 
Why Should I Play?
So why should you play Shiner? For starters, you can easily finish the game in a single afternoon. This comes in handy as there isn't a save feature for Shiner so you'll need to plan to commit around an hour to playing it.
RELATED: April's Most Anticipated Video Games
Though short, this thoughtful game is a full experience complete with a fully voice-acted cast of characters. The music is catchy too so be sure to play with your sound up. Speaking of characters, I fell in love with the art style and lovable losers that inhabit the world. Something about the character designs reminds me vaguely of the Fugly Doll line in the best way. Finally, when you play Shiner you'll be supporting a student project from the DigiPen Institute of Technology. 
Ready to hop into the fray for yourself? Download Shiner for free from Steam here!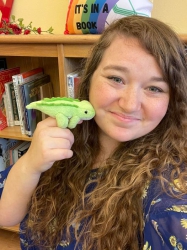 Latest posts by Lauren Darnell
(see all)