In case you missed this piece of good news, the Overwatch League's Shanghai Dragons have signed the league's first female pro gamer, Kim "Geguri" Se-yeon. This comes after a few weeks of speculating on whether any team would sign her during the player signing window. Many people on the pro-Geguri side lauded her Zarya skills and stats, and it's no wonder, she is one of, if not, the top Zarya player out there. The question, of course, is why it took so long for any team to sign Geguri when it was a bit obvious that she deserved to be a on a team.
We're excited to welcome He "Sky" Junjian, Kim "Geguri" Seyeon, Lee "Fearless" Euiseok and Chon "Ado" Gihyeon to our #OverwatchLeague roster. #FightingForGlory #OWL2018 pic.twitter.com/ErP88CmDS6

— Shanghai Dragons (@ShanghaiDragons) February 14, 2018
When the Overwatch League announced the 12 team rosters, there was some deep concerns about the absence of women in the league. According to an article from Kotaku, the Houston Outlaws fielded this question during a Q&A session and spent some time explaining why they wouldn't sign Geguri. Among the reasons: the language barrier, the concern about co-ed housing, and that other women who wanted to join the League would be facing serious challenges. And even worse they were concerned that signing a female player would be seen as a publicity stunt.
"You have to go through all these hurdles, like if you pick up a player, is the press gonna call it a PR stunt, or is it because she was the best?" said Outlaws general manager Matt Rodriguez in the Kotaku article.

Outlaws DPS player Jacob "JAKE" Lyon added, "For that even to be the perception, it'd be so terrible to be her. People would always be doubting, always be judging. So it has to be the right person, the right player, and those things have to come together at the right moment—which makes it especially hard for women in the scene right now."
In this day and age, you might wonder why this is still an issue, but sadly, you're probably not surprised that it is. Talented female gamers are everywhere, and they are posting as big of numbers and wins as their male counterparts. Take Sasha "Scarlett" Hostyn's Extreme Masters 2018 StarCraft II win just a week ago in Pyeongchang. While we all know she is one of the best Zerg players out there, people still have their doubts about her ability to hang with other pro gamers. Even with this major win over someone as dominant as Kim "sOs" Yo Jin, people will still question her place among the StarCraft II pros.  
RELATED: A Few Ways to Keep Busy While Waiting for World of Warcraft: Battle for Azeroth
Considering those two Houston Outlaws comments, it is frustrating to think that even when a player like Geguri is granted a seat in a male-dominated sport, she will always be viewed as inferior. There will always be the belief that she is on the team to meet some sort of diversity quota or that she is being used as a publicity stunt. How is it possible, however, to prove yourself on the big stage when no one gives you that opportunity and the lack of allies is painfully evident? How much grinding will female pro-gamers have to do to adequately demonstrate that they are just as skilled as male pro gamers?
Regardless, this is a signing that needs to be celebrated. Geguri has faced her obstacles and now she can show the pro-gaming world that she belongs there. In her role with the Shanghai Dragons she will be a part of the tank line, utilizing Zarya, D.va, and presumably Roadhog. Hopefully she will be given her chance to show her dominance and won't be knocked down before she can even take a seat in an Overwatch League match.
[Photo Credit: fomos/@kenzi131]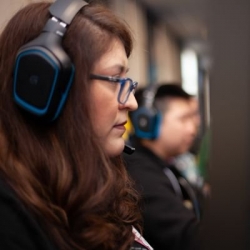 Latest posts by Renee Lopez
(see all)