In this fall season of new shows, one that has stood out amongst them has been The Orville, the science fiction comedy-drama from Family Guy creator Seth MacFarlane. It has been such a success that Fox has renewed it for Season 2.
According to Variety, the show has done reasonably well within the 18-49 demographic no doubt because of its humor, its take on serious issues, the group chemistry, and it's Seth MacFarlane. The show airs  Thursdays at 9pm on Fox, a slot that contends with ABC's popular "Scandal" and Thursday Night Football.
"Once again Seth has struck a powerful chord with viewers. He has delivered a series full of optimism, drama and his trademark humor. We want to thank him and the rest of the talented cast, as well as the producers and crew, for an incredible first season. We can't wait to see where The Orville travels in the second," said Michael Thorn, president of entertainment, Fox Broadcasting Company.
Related: Check Out GGA's The Orville Season 1 Recaps
If you haven't had a chance to catch any episodes of the show, you can watch them on Hulu after they premiere on Fox. For anyone who loves Galaxy Quest and Star Trek: The Next Generation, this show might be worth checking out. Seth MacFarlane plays Captain Ed Mercer, and he is joined by Adrianne Palicki (Commander Kelly Grayson), Penny Johnson Jerald (Dr. Claire Finn), Scott Grimes (Lt. Gordon Malloy), Peter Macon (Lt. Commander Bortus), Halston Sage (Lt. Alara Kitan), J. Lee (Lt. John LaMarr), and Mark Jackson (Isaac).
The show centers around the crew of The Orville, a Union ship on a mission of exploration. In their travels they deal with serious themes such as gender identity ("About a Girl"), the harmful effects of social media ("Majority Rule"), and the influence of religion ("Krill"). They also have hostile encounters with the enemy of the Union, known as the Krill, but so far the Krill have taken a back seat to some of these other storylines.
The Orville is executive produced by Seth MacFarlane, Brannon Braga (Star Trek: The Next Generation, 24), David A. Goodman (Family Guy, Futurama), Jason Clark (Ted, Cosmos: A Spacetime Odyssey), and Liz Heldens (Deception, Mercy).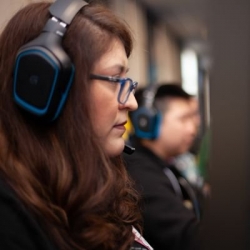 Latest posts by Renee Lopez
(see all)