About a month ago Rare announced a series of new content to the celebrate the 1-year anniversary of the open-world action-adventure pirate game Sea of Thieves. While the information presented during that announcement was a bit bare, they did promise that we would be receiving more information as we got closer to the anniversary.  
Yesterday Rare released the trailer for the Tall Tales – Shores of Gold adventure. As we can see it looks like we're in for a perilous adventure. Either by yourself or with your crew, you will be asked to find the Shroudbreaker, a key that will give you access to an unmapped island that holds vast riches. By following clues and solving puzzles you will make your way to different islands and will face new foes, including Skeleton Lords that are almost impossible to beat. In addition, the adventure has high replayability since each retelling will send you to different islands.    
The "Shores of Gold" tale mixes the standard Sea of Thieves gameplay with an Indian Jones adventure and I am very much into it. This update will be released on April 30th along with all the new changes coming to game including fishing, a harpoon, an Arena mode and a new ship damage system. Hopefully this new campaign is just the first of many.
Sea of Thieves is available for the Xbox One and PC.
You can watch the trailer below and prepare yourself for an adventure.
RELATED: SEA OF THIEVES Announces Upcoming Anniversary Update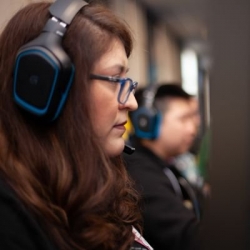 Latest posts by Renee Lopez
(see all)