On April 30th Sea of Thieves fans will be celebrating the one-year anniversary of the incredible open-world pirate adventure game. In a YouTube video and in a blog post, Rare revealed what players will have in store once the Anniversary Update hits.
These updates include The Arena, Tall Tales: Shores of Gold, fishing, and a harpoon gun that can be attached to the ships.
New Content
While specific information was not revealed in the trailer, they will be divulging more information during their live streams prior to April 30th. The current schedule is as follows:
Wednesday April 10th (5pm BST/9am PST)
Anniversary Preview: The Arena: This will be a new PVP competitive mode.
Tuesday April 16th (5pm BST/9am PST)
Anniversary Preview: The Hunter's Call. The Hunter's Call is a new Trading Company along the lines of the Merchant Alliance, the Order of Souls and Gold Hoarders. This means new cosmetics, gold rewards, and more adventures. 
Tuesday April 23rd (5pm BST/9am PST)
Anniversary Preview: Tall Tales: Shores of Gold. This is collection quests that the players can embark on. Shores of Gold is the first collection.
RELATED: Major Titles from Quantic Dream Are Heading to the Epic Games Store
Anniversary Gifts
While we might have to wait to tune into these live streams to give us more information about this added content, Rare will be rolling out some goodies for players in the upcoming days. This includes:
New merchant voyages
Captain Bones' Original Pirate Cutlass
For Pirate Legendary they will receive a Golden Legendary Tankard, a Golden Legend Hurdy-Gurdy, a Golden Legendary Blunderbuss and ship customizations
Golden Sailor Hat and Golden Sailor Cannons
Sea of Thieves- themed gamerpics
A new song "We Shall Sail Together" that will be released on Spotify, Deezer, Google Plays, iTunes, Amazon Music and Tidal
It is hard to believe that this game has already been out for a year and the Anniversary Update is going to be incredible. As a fan of the game, I commend Rare for keeping the game interesting by adding new features and challenges. While I am not yet a Pirate Legend, I appreciate that they keep this game on a level playing field for all players. This allows us to explore the open sea, collect booty, fight skeletons, and plunder and steal from other pirates.
Oh the pirate's life is for me.
You can watch the Anniversary trailer below and you can find out more information on the Sea of Thieves official website.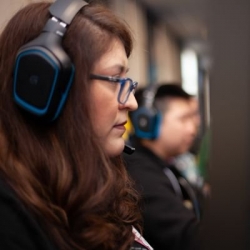 Video Games Editor and Senior Contributor
at
Geek Girl Authority
As a Senior Contributor for GGA, I'm able to write about the things I love the most: geek culture and video games. I've been gaming since the 1980's and to see the evolution of games has been amazing and inspiring. What a time to be a gamer!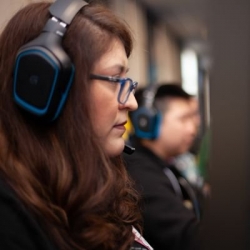 Latest posts by Renee Lopez (see all)