15 years ago, a superhero movie based on the Hellblazer series from DC Comics was released in movie theaters. Constantine starred Keanu Reeves in the titular role with newcomer Francis Lawrence directing and Akiva Goldsman producing. While it received unfavorable reviews it is now rightfully considered a cult classic. And to some of us, it's one of Keanu Reeves' best movies.
At San Diego Comic Con, Collider's editor-in-chief Steven Weintraub spoke with Reeves, Lawrence and Goldsman about Constantine from its conception to it its release. Here are some highlights from the panel.
The Beginning
Weintraub began by asking each panelist how they got involved with the project. Goldsman was the first to sign on. He initially worked with Lorenzo di Bonaventura and Bob Brassel on the script, and they had Nicholas Cage in mind for the lead role. Unfortunately, the movie didn't go anywhere for quite some time, but they were able to pick it back up with Reeves joining first and then Lawrence signing on as director.
Reeves was brought into the movie through his old manager. He hadn't known much about the character either through Hellblazer or Swamp Thing. He had some initial concerns about the role, seeing as the original John Constantine is both English and blonde. But there was something about the character that drew him to the role. "It's such a beautiful character. This kind of humanitarian cynic kind of tired, world-weary, you know, tired of all the rules and morals and ethics and angels. You know but still a part of it," Reeves explained.
Lawrence was brought on to the movie last, but it wasn't an easy journey for him. With his experience in directing music videos, he ended up spending nine months talking to producers and Warner Bros. executives to convince them that he had a vision for the movie. When he finally had an opportunity to talk to Reeves about it, Lawrence didn't squander his chance to impress him. After all, Reeves' approval was what he really needed.  
Superhero Genre Influences
It is important to note that Constantine came out during a time when DC was churning out superhero movies like X-Men and X2: X-Men United, Spider-Man and Spider-Man 2. In talking about any possible influences those movies might have had on Constantine, Lawrence explained that he didn't look at those movies as references. Instead he turned to noir films like Blade Runner, The Third Man or The Maltese Falcon because "there was just a huge noir tone and influence in the story."
Another big movie that was being filmed at the time was Christopher Nolan's Batman Begins. Weintraub asked about that movie's possible influence on Constantine and Lawrence was blunt in his response, "In all honesty, I think Warner Bros. didn't care that much about the movie at the time."
Goldsman added that they were doing something atypical because they were mixing noir and horror with the comic book genre on film. But it wasn't until they showed the executives a 25-minute sizzle reel that Warner Bros. took notice of the movie. After that everything changed, and the movie suddenly had the attention it needed.
Filming In Los Angeles
Constantine is set in Los Angeles, but it very well could have been shot in other Los Angeles stand-in cities like Atlanta, Vancouver and Toronto. Fortunately, Reeves had it in his contract that the movie had to be shot in Los Angeles.
"I love LA and I love filmic LA… I loved being on the streets. I like the way the weather changes. I like the early dawn, the deep night. The color for the lights. People, people who are on the street. It's got a good vibe," Reeves gushed.
They went on to thank cinematographer Philippe Rousselot and production designer Naomi Shohan for bringing the world of Constantine to life. Lawrence had been impressed with Shohan's work on Training Day, so bringing her on resulted in seeing parts of Los Angeles moviegoers wouldn't normally see.
Lawrence commented on the team spirit and camaraderie of the cast and crew, "I got a little spoiled by how much love the whole cast and crew had for the project."
RELATED: SDCC 2020: NOS4A2 Panel Teases Things Are About to Get Worse
Keanu Reeves is Awesome
We all have heard the stories about how humble and gracious Keanu Reeves is on set and off. Weintraub made it a point to ask Reeves about what keeps him grounded. The answer was part Reeves trying to turn the focus away from him and part him awkwardly accepting the compliment. Reeves went on to thank more of the crew, including camera operator Mark La Bonge and first assistant director Josh McLaglen. Lawrence also thanked assistant camera operator Pamela Rittelmeyer and dolly grip Darryl Humber. Reeves did not hold back his sheer excitement and appreciation for the crew.
"Killers! Killers! A great LA crew! Ah! The best in the world!"
The Rating of Constantine
Originally Constantine was filmed based on the PG-13 recommendations from Warner Bros. According to Lawrence they followed every suggestion and held back on the violence and language. Unfortunately, what they hadn't accounted for the was the overall tone of the movie. Which, if you consider the subject matter of the movie, wasn't much of a surprise.
Goldsman elaborated on the rating situation, explaining that a movie in the religious horror genre is more likely to receive that kind of rating (because demons). Even by today's standards, Constantine would undoubtedly receive an R rating.
Keanu Reeves is Awesome, Part II
Reeves went on to reminisce about his whole experience working on Constantine. From sharing the scenes with Rachel Weisz (Angela/Isabel), Peter Stormare (Satan), Tilda Swinton (Gabriel), Shia LaBeouf (Chas) and Djimon Hounsou (Midnite), to the late nights and early mornings they spent filming scenes. He once again thanked the cast and crew for their hard work.
The Concept of Hell
In Constantine, John is forced to deal with matters concerning Heaven and Hell, angels and demons. In approaching the concept of Hell, Lawrence deviated from the script, which depicted Hell as an "inky, black void." He reimagined it as a geographical mirror image, where there is a Hell version of wherever you are. So when Constantine enters Hell for the first time, we are seeing Hell Los Angeles. But geography wasn't the only adjustment, as time also moved quicker there.
Goldsman added: "Hell has geography in Constantine. There's Hell LA, there's Hell Des Moines, there's Hell Brooklyn, there's Hell your mother-in-law's house and they all exist. There's a whole planet of Hell, a whole world, an Earth that is Hell and that's extraordinary because suddenly Hell got to be new."
In developing the visual effects for Hell, Lawrence and the VFX supervisor looked at old footage of nuclear bomb tests. The idea was to make Hell resemble what buildings look like upon detonation of a bomb, when the first wave of heat hits. Therefore, you have the heat distortion, the immense winds and the red color scheme all worked into the VFX.
Character Moments
Weintraub noted that in Constantine, character moments are often followed by action, but it goes quickly back to character moments. This forward progression of the story differed from other movies that followed the common Act One to Act Two to Act Three progression. This created an experience where the audience was always left guessing about what was going to happen next. Lawrence confirmed that it was the plan, but the key was the make the action and the character moments feel organic and not forced.
Constantine 2?
There has been speculation about a possible sequel to Constantine for years. Unfortunately, the enthusiasm for a sequel started and stopped with Lawrence, Goldsman and Reeves. Warner Bros. didn't seem to be on board, and with the overall reception of the movie, the idea of a sequel was left in the dust.
However, Lawrence pointed out that the fan following of Constantine has grown over the last 15 years. "Every time I do a movie and I go out and travel the world and do junkets, I am signing Constantine DVDs more than any other movie that I've done," he explained. He also mentioned the article that Rotten Tomatoes published where they apologized for the RT score that Constantine currently has. People are now discovering the movie (which is good news for the rest of us).
Test Screenings and Takeaways
The last question for the panel was about the impact test screenings had on the movie. Lawrence pointed out that religion is a very polarizing topic, where deeply religious people might take offense to the subject matter while non-religious people "don't want to be preached to." For him, that was the biggest takeaway.
So concluded the panel for the Constantine 15th Anniversary Reunion. If you have not watched Constantine, now is a fantastic time.  
RELATED: Keep up to date on GGA'S SDCC 2020 Coverage
Full Panel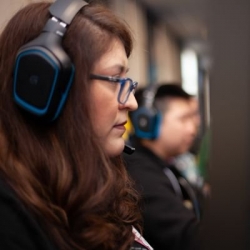 Latest posts by Renee Lopez
(see all)