Wubba Lubba Dub-Dub! Among all the giant SDCC 2023 announcements, Adult Swim gave us the first look at the upcoming Rick and Morty: The Anime. Rick and Morty: The Anime is a Japanese–American anime science fiction sitcom created and developed by Takashi Sano. 
Sano isn't new to the science fiction anime genre, having worked on the Psycho-Pass anime from 2012. From the teaser, we can see Rick and Morty: The Anime will have an intense visual style to it, but the writing is what's going to be important. Sano soothed fan anxiety about potentially not living up to the standards set by the original series with a pre-recorded message. 
RELATED: Keep up with our SDCC 2023 coverage here!
In it, Sano touched on the immense pressure of creating a new Rick and Morty series and explained that his goal was to take all of his favorite parts of watching Rick and Morty and "compress them down to extract their essence and then add a unique Japanese twist."
We don't know much else about it yet except that, when announcing the anime series based on the Rick and Morty franchise, Adult Swim said it would consist of 10 episodes. Anime seasons typically consist of 12 episodes, while American television specials are usually eight, so this seems to be a compromise in the market crossover. 
RELATED: SDCC 2023: Max Original Animation Panel Is Full of Sneak Peeks and Surprises
No release date has been revealed for Rick and Morty: The Anime, but it was previously reported in earlier announcements that the series is supposed to release sometime this year. Will you tune in to watch the spin-off? What details did you spot? Comment all your fan theories!
SDCC 2023: All of the Huge Crunchyroll Industry Panel Announcements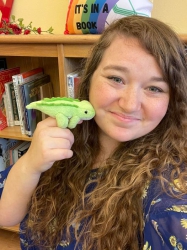 Latest posts by Lauren Darnell
(see all)