SDCC 2023 showcased a huge first day, including a special look at the highly anticipated Marvel's Spider-Man 2. Insomniac Games are developing this game in collaboration with Marvel Games and PlayStation. Marvel's Spider-Man 2 continues the saga of the critically acclaimed Marvel's Spider-Man franchise.
RELATED: Check out GGA's SDCC 2023 content here!
This included an amazing story trailer and a sneak peek at the special edition console that will come with the limited-edition bundle. These announcements were made by key members of the creative teams as well as the voice actors for the game, including Yuri Lowenthal (Peter Parker), Nadji Jeter (Miles Morales), Laura Bailey (Mary Jane Watson) and Tony Todd (Venom).
Special Edition Console
Today, we got an exciting first look at Marvel's Spider-Man 2 Limited Edition Bundle, which features a custom PlayStation 5 console cover design and matching DualSense wireless controller. In fact, this console is so epic that it garnered its own trailer for the announcement. I think my current PlayStation 5 is about to be "running slow" just so I can pre-order this beauty next week on July 28. 
RELATED: SDCC 2023: Max Original Animation Panel Is Full of Sneak Peeks and Surprises
Brand New Story Trailer
Fans were also stoked to see a brand-new story trailer which shows the Spider-Men, Peter Parker and Miles Morales, enter new chapters in their lives as they balance their responsibilities as protectors of Marvel's New York. As Harry Osborne, Peter's best friend, returns to his life, and Miles looks to build his future beyond high school, the relationship between our heroes is tested and strained as the Symbiote appears to threaten them, the city and the ones they love.
Are you ready to web-sling your way through New York City again? Will you pre-order the special edition console? Marvel's Spider-Man 2 will be available exclusively on PlayStation 5 on October 20, 2023.
SDCC 2023: Eli Roth's BORDERLANDS Movie Adaptation Gets a Release Date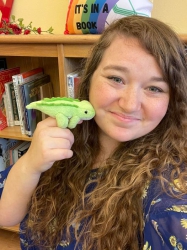 Latest posts by Lauren Darnell
(see all)