Welcome, vault hunters to GGA's San Diego Comic-Con 2023 coverage. Today we were given a solid date on the upcoming Eli Roth's movie adaptation for Gearbox's Borderlands video game series. 
We've known about this movie for a few years now, but still don't have a full look at it. What we do know so far is that the Roth-written and directed film will feature many big names. So far we have been teased that the movie follows Lilith (Cate Blanchett) as she returns to Pandora on a bounty to find Atlas' (Edgar Ramírez) missing daughter. 
RELATED: Keep up with our SDCC 2023 coverage here!
At some point in the movie, she will team up with fellow vault hunter Roland (Kevin Hart) and a CL4P-TP unit known as Claptrap (Jack Black). We will also see fan-favorite characters like Tannis (Jamie Lee Curtis),  Tiny Tina (Ariana Greenblatt), and Krieg (Florian Munteanu).
There is also word that Haley Bennett, Bobby Lee, Olivier Richters, Janina Gavankar, Gina Gershon, Cheyenne Jackson, Charles Babalola, Benjamin Byron Davis, Steven Boyer, Ryann Redmond and Penn Jillette will join the cast.
RELATED: SDCC 2023: Max Original Animation Panel Is Full of Sneak Peeks and Surprises
With the movie about a year away, hopefully, we will have a trailer or some set photos very soon. Until then it's hard to get a good feel for the film, but it will be a success if it keeps that classic Borderlands video game humor! The Borderlands movie adaptation has a release date of August 9, 2024. 
SDCC 2023: STAR TREK Universe to Energize Fans With Panels and Activations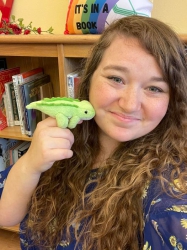 Latest posts by Lauren Darnell
(see all)