A revival of the animated X-Men series titled X-Men '97 will come to Disney Plus in late 2023. The show details were discussed during an SDCC 2022 panel moderated by Paul F. Tompkins on Friday, July 22, 2022.
Marvel Studios Animation revealed plenty of information about their upcoming animated Disney Plus streaming shows slate, but this one gets all my hype. It will mark the first official X-Men project at Marvel Studios since their acquisition of 21st Century Fox's television and film assets. 
RELATED: Keep up to date on GGA's SDCC 2022 coverage!
News of X-Men '97 has been circulating for some time, but a definite release date is something to celebrate. The original showrunners, Eric and Julia Lewald, are consulting on the new series. They confirmed this show picks up right where the original X-Men series wrapped.
The original show ended on a cliffhanger, as Charles Xavier was gravely injured and rescued by Empress Lilandra in 1997. This ending is how the show acquires the "'97" in its title, as the original series ran from 1992 to 1997. 
Fans were promised a return of series favorites such as Rogue, Beast, Gambit, Jean Grey, Wolverine, Storm, Jubilee and Cyclops. Other notable returning characters include Cable, Bishop, Forge, Morph, Nightcrawler and Sunspot. 
RELATED: SDCC 2022: Prepare for Adorable Overload With I Am Groot Trailer
As for villains, the panel showed off various Sentinels surrounding the X-Men and Mr. Sinister. White Queen and Sebastian Shaw of the Hellfire Club were also confirmed to appear.
We learned that X-Men '97 will retain the classic look and animation style but will gain a sharper image for modern HD streaming. The panelists revealed that one of the show's central themes will be, "Why do we still need the X-Men?"
I don't know about you geeks, but I'll be humming the original theme until X-Men '97's release later next year. How do you feel about the continuation? Which characters do you want to return? Please share your thoughts with us in the comments!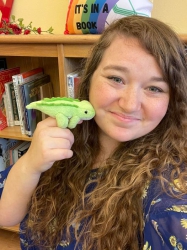 Latest posts by Lauren Darnell
(see all)