San Diego Comic-Con 2022 has been an unending treasure trove of nerdy goodness, further blessing us with a new poster image for the latest Ant-Man installment, Ant-Man and the Wasp: Quantumania.
The new poster shows off Ant-Man (Paul Rudd) and The Wasp (Evangeline Lilly), but it also gives us our first look at Kang The Conqueror (Jonathan Majors) and Stature (Kathryn Newton). It depicts Kang menacing the trio of heroes, who are posed confidently against him. 
The poster was revealed via Twitter, but no other details were included as far as the direction of the plot. We know that Ant-Man and the Wasp: Quantumania will once again be directed by Peyton Reed from a screenplay by Jeff Loveness. 
RELATED: Keep up to date on GGA's SDCC 2022 coverage!
The film is intended to be the sequel to 2015's Ant-Man and 2018's Ant-Man and the Wasp and will mark an impressive 31st entry into the Marvel Cinematic Universe. The last installment of the Ant-Man films left us with the Pym family being dusted during "The Snap".  I assume we will get to see some of how they settled back into normal life after the events of Avengers Endgame, much like we did in Falcon and the Winter Soldier.
The plot for Ant-Man and the Wasp: Quantumania has been kept heavily under wraps but a panel with the cast and director Peyton Reed revealed new details. Reed said the new film will introduce viewers to "a lot of new characters" and "explore the quantum realm, which is not always what you think it is."
RELATED: Movie Review: Thor Love and Thunder
The room was also treated to a special, (currently) unaired clip that Deadline described as such: The segment begins with Scott aka Ant-Man reading his book, Look Out For The Little Guy, to a crowd in a bookstore, before he receives a call that his daughter Cassie is in jail. Scott tells his daughter that she shouldn't try to be a hero, before the two of them and the Pim family get sucked into the quantum realm and separated, with a voiceover by a man revealed to be He Who Remains, played by Jonathan Majors.
No word yet on when this clip is going to be released to the public, so we will just have to wait and see! Ant-Man and the Wasp: Quantumania is slated for release on February 17, 2023. Are you excited to see more Ant-Man and the Wasp? Which new characters do you hope drop into the MCU? Share your thoughts below!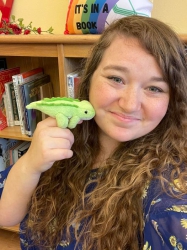 Latest posts by Lauren Darnell
(see all)