Amandla Stenberg confirmed on Instagram that her next stop is a galaxy far, far away. The Hate U Give actress will be joining the cast of the upcoming show Star Wars: The Acolyte. Since this, other official media accounts have confirmed her involvement in the show, but we don't know much about Stenberg's character.
Upon its announcement in December 2020, Disney Plus described the series as such: Star Wars: The Acolyte is a mystery-thriller that will take viewers into a galaxy of shadowy secrets and emerging dark-side powers in the final days of the High Republic era. Within the Star Wars universe, an acolyte can refer to individuals with Force abilities who learn from a more experienced Sith Lord.
RELATED: Keep up to date on GGA's SDCC 2022 coverage!
So far, no official release date for this highly anticipated entry in the Star Wars universe exists. Because it takes place during the High Republic era, about 200 years before the events of Star Wars: The Phantom Menace, we know the Sith are hiding at this point in the timeline. This fact is interesting to remember because the show will focus on a Dark Side Force user and their descent into the practices. 
I hope we see a dark, ruthless Dark Side user with no redemption arc. Sith-focused content is already sparse within the universe, and when they are in hiding, I would like to see them act more villainous to set up some of the scary stories padawans tell each other around the campfire. 
RELATED: SDCC 2022: Eerie Nix Trailer Released During Comic-Con
What are your thoughts on Star Wars: Acolyte? Are you a High Republic era fan? Let us know your thoughts in the comments, and keep your eye on Geek Girl Authority for more SDCC 2022 news.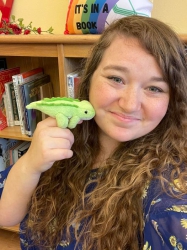 Latest posts by Lauren Darnell
(see all)