Updated to include The Boys Season 2 clip. 
San Diego Comic Con, the Virtual Edition, is in full swing today as thousands of viewers have been watching panel after panel in the comfort of their own homes. While we might be missing the long lines of Hall H, or the bustle of people walking in downtown San Diego, it is nevertheless a treat to see some of our favorite shows represented during Comic-Con at Home.
Among some of our favorite shows is Amazon Prime's The Boys, which is now entering its second season. Created by Erik Kripke (Supernatural), The Boys is about what happens when superheroes of questionable moral standards are left unchecked by the public.
Led by moderator Aisha Tyler, the panelists (including Karl Urban, Jack Quaid, Antony Starr, Jessie T. Usher, Erin Moriarty, Laz Alonso, Tomer Capon, Chace Crawford, Karen Fukuhara and Aya Cash) talked about the Season One arc going into Season Two. Kripke started by talking about the very favorable reception from the fans and thanked them for their continual support.
In Season Two, we can expect it to be crazier and more emotional with higher stakes. The Boys are fugitives after the events of Season One, and they vow to strike back against Vought. Homelander (Starr) has killed Vought's CEO (Elizabeth Shue), so we will see him to go down a darker path now that she's gone. Startlight (Moriarty), having had a major fight with A-Train (Usher), is now trapped between working with The Seven and aiding The Boys.
The Main Themes of Season 2
Kripke and company tried to make this show realistic and to serve as commentary on the world that we live in. This means a focus on politics and celebrities and social media. And the parallels are evident. In Season One they focused on the #MeToo movement with Starlight's situation with The Deep (Crawford). They also hit upon the military complex with the idea of superheroes joining the military under the guise of keeping the peace around the world. In Season Two, white supremacy, white nationalism and systemic racism will be the main themes.
They showed a clip from Season Two, where The Boys are trying to escape an angry whale stampede led by The Deep. The scene is intense and action-packed, and yes, a whale gets impaled by a boat. Very on-brand for The Boys. What's interesting is that Karl Urban is actually driving the boat and the whale the boat crashes into is a practical effect. "What showrunner would ever let their cast get in such an impossibly stupidly dangerous situation?" Urban asked.
Catching Up with The Boys
Season Two will also follow up with what happens after The Butcher (Urban) discovers that his wife alive and is the mother to Homelander's son. It was his main objective in Season One to find her, and now in Season Two, he must now save her from Homelander. The big question will be how much he is willing to sacrifice to save her. We will also see an awkward Butcher and Starlight pairing.
We'll also look at Homelander's descent into whatever dark place he's going to. Without his "mother figure," he will now try to find his place. Despite all his powers, he is unable to force relationships on people. "The strongest man on the show, is the weakest emotionally on the show," explained Starr.
For Hughie (Quaid), we will see how he copes with the end of Season Two. Now that The Butcher is gone, Hughie feels alone and guilty for lying to Starlight. He must decide whether he will keep the fight against The Seven going. Hughie will start coming into his own instead of relying on others to push him in any one direction.
Annie, having been thrown into this world of The Seven, is the only hero who still had a conscience by the end of Season One. We will see her "step into her own strength," while maintaining her high sense of morals. But in order to achieve her goals, she will need to join forces with people like The Butcher. After all the heartache and betrayals, she will build walls around her that will keep people out. Starlight will also have to face the rest of The Seven, especially after what happened between her and A-Train.
After Season One, A-Train has a heart attack, due to the consistent abuse of Compound V. He has to also deal with his fears, his addictions and murdering his girlfriend, Popclaw. As one of the more vulnerable characters in The Boys, A-Train has been constantly worried about his position in The Seven and maintaining his standing as the fastest man alive. In Season Two, we will see how fear fuels him and motivates him to do very questionable things to protect himself. His attention will shift from Hughie to another character on the show. But now he has to deal with the "mental and emotional state that he's' in."
RELATED: SDCC 2020: The New Mutants Panel Revealed New Release Date and Exciting Opening Scene
Mother's Milk (Alonso) now has to deal with the aftermath of the events of Season One. We saw his wife and daughter leave him behind after Homelander threatened them. But the real question is, what motivates MM to stay with The Boys? It's the ongoing fight for freedom and justice, and to preserve the future for his daughter. He essentially becomes the voice of morality.
Perhaps one of the more interesting storylines of Season One, was the personal journey of The Deep. After sexually assaulting Starlight in the first episode of Season One, The Deep is unofficially removed from The Seven. In Sandusky, Ohio, The Deep comes to the realization that he is alone and that his actions where what brought him to that dark place. In Season Two The Deep will be pulled "into a certain kind of spiritual journey" as he tries to find love and make personal connections. We can also expect to see some mishaps along the way, as well as a person from his past.
The Woman, aka Kimiko, in Season One was a mystery. Having discovered that she has powers, The Boys try to protect her, specifically Frenchie. In Season Two we'll take a deeper look into "her psyche and her emotional state." We'll also see some more moments from her past and how she became who she is now. These discoveries will possibly have a negative impact on her relationship with Frenchie.
Speaking of Frenchie (Capon), having spent the majority of Season One trying to protect Kimiko, in Season Two we will see his origin story. As Kimiko will have to deal with her past, Frenchie will have to deal with her transformation into her own person. This will place him in "a lonely spot" in which he needs to deal with his traumas.
Newcomer Stormfront (Cash) will be making her debut in Season Two. She will be a match for Homelander, and we will see how that dynamic works. She will be a different kind of female character in the show. As moderator Tyler explained, "This Stormfront storyline is just extraordinary and very prescient for where we are right now in our culture." For the actor, it is an exciting chance to portray a character that she "violently disagrees" with, and it allows her find that humanity and go "into the gross part of ourselves."
Season Three Major Announcements
Overall, it sounds like Season Two will take things up a notch in addressing universal themes of power and corruption. As Kripke explains, "I think one of the theses of the show is: power doesn't actually corrupt you, it just reveals the thing you've secretly always been." In the end, we are not meant to agree with the superheroes, but we are supposed to understand why they do what they do.
Executive producers Seth Rogan and Evan Goldberg made a brief appearance to announce that The Boys has been renewed for Season Three (we just don't know when it will happen). There will also be a new after-show, Prime Rewind: Inside The Boys, hosted by Tyler.
Season Two of The Boys premieres on September 4, 2020 with the first three episodes. After that, there will be a weekly episode until the October 9 finale.  
RELATED: Keep up to date on GGA's SDCC 2020 Coverage 
Comic-Con  at Home 2020: The Boys Panel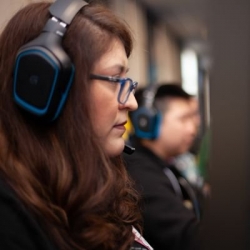 Latest posts by Renee Lopez
(see all)