If you haven't checked out The Orville, Seth MacFarlane's love letter to Star Trek and comedic sci-fi, then you might be missing out on one of the most genuine and fun adventures on TV.
At their SDCC 2019 panel, creator MacFarlane (Captain Ed Mercer) was joined by fellow cast members Scott Grimes (Lt. Gordon Malloy), Mark Johnson (Isaac), Penny Jerald Johnson (Dr. Claire Finn), Adrienne Palicki (Cmdr. Kelly Grayson), Jessica Szohr (Lt. Talla Keyali), Peter Macon (Lt. Cmdr. Bortus), and Chad Coleman (Klyden) along with Executive Producers Brannon Braga, David A. Goodman and Jon Cassar to talk about everything that happened in Season 2, a look forward to Season 3, and answer questions from the audience.
To start MacFarlane made a huge announcement: Season 3 will premiere on the streaming service Hulu. This came as a surprise as it has had a successful run on Fox, but perhaps this is the best move for the show as it has grown in scope.
"My friends at the network understood what I was trying to do with this series, and they've done a spectacular job of marketing, launching and programming it for these past two seasons. But as the show has evolved and become more ambitious production-wise, I determined that I would not be able to deliver episodes until 2020, which would be challenging for the network. So we began to discuss how best to support the third season in a way that worked for the show. It's exactly this kind of willingness to accommodate a show's creative needs that's made me want to stick around for so long," MacFarlane stated in a press release.
How the move will affect the show will be unknown until its premiere in late 2020, but according to MacFarlane, The Orville Season 3 will be the most surprising season yet. He also confirmed that the show will continue to explore social topics in addition to featuring big name actors.
During the panel the cast and crew answered questions about Season 2 so spoilers are incoming unless you are all caught up.
Jon Cassar spoke about the space battle in Identity, Part 2, which has been nominated for an Emmy for visual effects. "Seth wanted the space battle to be of Star Wars quality," Cassar said. To achieve it, he brought in as many people as he could to help plan the battle.
Penny Jerald Johnson talked about Clair's love affair with the Kaylon engineer Isaac and the nervousness she felt with some of the scenes. However the events of the Identity two-parter took its toll on their relationship and when asked if Claire will ever be able to forgive Isaac, MacFarlane sidestepped the question.
Fans of the show know of the sometimes strained marriage between Bortus and Klyden. Peter Macon said that their relationship is like any others. And when asked if the two characters would ever get a divorce, Macon said they wouldn't.
When asked about Alara (Halston Sage) and if that character would ever return, MacFarlane said the door is always open and that a cameo could happen. He did not confirm that Alara would show up in Season 3.
And lastly, MacFarlane said that he would like to see The Orville go on long enough so that it could potentially get a film. He wants to be able to explore more of the cosmos and hopefully make the show more educational.
RELATED: Read all Geek Girl Authority San Diego Comic-Con coverage here!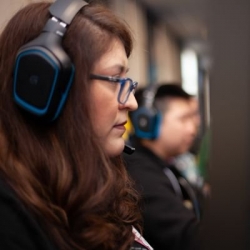 Latest posts by Renee Lopez
(see all)