At SDCC this year, cast members and crew from Star Trek: Deep Space 9 gathered to talk about the documentary What We Left Behind, in-depth, behind-the-scenes look at the memorable and groundbreaking Star Trek series.
Showrunner Ira Steven Behr, producer Kai de Mello-Folsom, and documentary filmmaker David Zappone were joined by cast members: Penny Johnson Jerald (Kasidy Yates), Cirroc Lofton (Jake Sisko), Aron Eisenberg (Nog), Andrew Johnson (Elim Garak), and Chase Masterson (Leeta) to discuss the impact of DS9 and the documentary.
DS9 had a lot riding on its shoulders when it first aired on January 3, 1993. Set on a Bajoran space station after the Cardassian Occupation of Bajor had come to an end, DS9 was the first series after the immensely popular Star Trek: The Next Generation and it quickly distinguished itself from being a TNG clone. Gone with where the tight episodic adventures that were prevalent in TNG, DS9 moved to tell long sweeping story arcs about war and conflict and its adverse effects on individuals and civilizations. The series also delved in more "controversial" topics like religion and spirituality, occupation and colonization, and greed and profit. There were also episodes that focused on race and segregation, terrorism, and in one of the more important DS9 episodes, the fine line of morality.
At the panel the cast were asked a series of questions about their time on the set of Deep Space 9 and their involvement in the documentary. "This wasn't just a job. So for us this documentary was a wonderful opportunity to harken back. We've always been seen as this little brother of Star Trek. We're not," said Chase Masterson. Andrew Robison reflected on his role as Garak, "To work in a mask, that really became an extension of me. In a wonderful way, (it) freed me in a way that I've rarely been free." And Penny Johnson Jerald stated, "It was a love affair. Not just with Avery but with outer space. It was my introduction into sci-fi. If it were not for DS9 I would not be doing The Orville."
If you were a fan of Star Trek: Deep Space 9, then you might owe it yourself to check out What We Left Behind. It will be released on August 9, 2019 on DVD, Blu-ray and digital download.
RELATED: Read all Geek Girl Authority's San Diego Comic-Con coverage here!
You can check out the trailer below!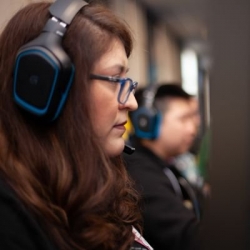 Latest posts by Renee Lopez
(see all)