On Sunday morning, the Supernatural panel started off with a bang. The famous 1970's rockers Kansas opened up the panel with their classic "Carry On Wayward Son" while screens all along the sides of Hall H showed the audience the 12 year journey of Sam and Dean Winchester. Look for the video on YouTube, it's quite amazing.
The panel started with moderators Richard Speight, Jr. (Gabriel) and Rob Benedict (Chuck/God) announcing the rest of the guests including Executive Producer Robert Singer,  Jensen Ackles (Dean Winchester), Jared Padalecki (Sam Winchester), and showrunner Andrew Dabb.
They began with a quick recap of the Season 12 finale which ended with the birth of Lucifer's (Mark Pellegrino) son Jack. Castiel dies at the hands of Lucifer, the British Men of Letters were completely wiped out, Rowena dies, Mary is now trapped in an alternate dimension, and Crowley sacrificed himself.  
One of the big questions was the death of Castiel and whether or not he is really dead. Of course, in Supernatural, no one dead ever stays dead and it has been leaked that Castiel will be back in Season 13. In what form or how he will be back was not been revealed. During the talk about Castiel, Misha Collins (Castiel) walked on stage.
Through all the jokes between the panelists, there was some good information about Season 13. In dealing with Jack, Lucifer's son, Jensen admitted that the brothers will being treating this new character differently than past Big Bads.
"Obviously with the mom being gone and Cass, and all of this kind of turmoil that the brothers find themselves in, now they have this person, this thing, this entity, and in Dean's mind just simply has to go. But because it's technically, it's half-human, the ever optimistic Sam Winchester…We have two different ideas of how to handle the situation."
Of course, we're not sure if this new character will be good or evil. In Season 12, Jack was painted as a savior who will usher in peace. On the other hand, he is the son of Lucifer, so he could certainly go in a much more evil direction.
Jared offered Sam's take on the whole issue. "We've dance around this a couple times, but not to this degree, this whole nature versus nurture argument. And so…Jack certainly is half Lucifer, but he's also half Kelly Kline, right? Kelly Kline was a good person. So Sam ever the optimist is trying to figure out what to do and Dean, being Dean, shoot first ask questions later, has his ideas."
As for Jack, he will be going on a journey to decide which side he will choose.
Mary's fate is also up in the air. Dean will assume that she is dead but Sam will believe she's alive. They did confirm that Mary (Samantha Smith) is still alive in this alternate dimension. She will also be on her own journey as she tries to make that new world a better place.
With the new alternate dimension in place, we could very well see old characters come back. Andrew Dabb confirmed that Missouri Moseley (Loretta Devine) will be back along with Jody Mills (Kim Rhodes) in the regular world. In the Apocalyptic World, characters that have been dead on the show for some time will be alive but "much different."
Even as they look forward to Season 13, they did look back at the last 12 years of the show. According to Jared, "Gradually as the show was going on, both Jared and Sam have realized that this is life and life is pretty great. It can have its ebbs and flows, its ups and downs, its good days and its bad days, but it's wonderful. And to look out here after 13 years and see how many thousand people…but its' changed a lot."
Of course, a lot of this couldn't be possible without the constant presence of Robert Singer, who has been with the show since the very beginning. "The relationship that I think we all have is really special and getting back to why I'm still here I think is because these relationships are really dear to me and I just appreciate every day that I can work on this show."
Supernatural Season 13 premiers on October 12, 2017 at 8pm PST on The CW.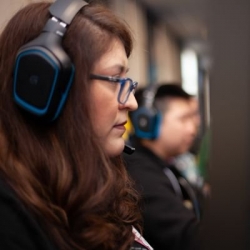 Latest posts by Renee Lopez
(see all)