There were so many things we learned at the Riverdale Comic-Con panel that it might take too long to summarize, but we'll focus on the important information for the upcoming Season 2 of the popular teen crime drama.
On hand at the Riverdale panel was creator Roberto Aguirre-Sacasa, actors K.J. Apa (Archie Andrews), Camila Mendes (Veronica Lodge), Lili Reinhart (Betty Cooper), Cole Sprouse (Jughead Jones),  Madelaine Petsch (Cheryl Blossom), Ashleigh Murray (Josie McCoy), Hayley Brown (Valerie Brown), Asha Bromfield (Melody Valentine), Casey Cott (Kevin Keller) and Executive Producer Sarah Schechter.
After getting through the amusing questions like who played the most pranks on set, who took the most selfies, who broke into the most giggles on set, who ate the most snacks and who sang the most, they got into some key Season 2 information.
As we all know, the 13-episode season ended on a major cliffhanger. After identifying Jason Blossom's killer, everyone thought life in Riverdale would go back to some semblance of normalcy, but they were all wrong. The season ended with Archie's father, Fred Andrews (Luke Perry), shot and bleeding on the Pop's Diner floor.
Creator Roberto Aguirre-Sacasa confirmed that the first episode of Season 2 would be focused on Fred and it would be revealed what his ultimate fate would be at the end of the episode. "But we're all pulling for him," Aguirre-Sacasa said.
Actor K.J. Apa also admitted that with everything happening with Fred, that we may very well see a "dark Archie" in the upcoming season. Known as the optimist of the group, it will be interesting to see him embrace a more cynical side.
It was also revealed that Season 2 will have a full 22 episodes.
With the addition of 9 more episodes, Aguirre-Sacasa and Executive Producer Sarah Schecter were excited that they will have more room to tell the stories of some of the underutilized characters. We'll see more Kevin Keller, more Josie and the Pussycats, more character interactions and more crime fighting.
As for Jughead, last season ended with him putting on a Southside Serpent jacket and getting along with people at his new school, Southside HIgh. Actor Cole Sprouse explained that Jughead will need to pick a side (his friends or the Serpents), and that his physical separation from the rest of the group will have some repercussions. And if you're wondering if Jellybean and Jughead's mom will be making an appearance, chances are we will see them in the second half of the season.
We'll also see a "tortured soul" Betty who will accept her inner darkness.
Hiram Lodge (Mark Consuelos) will be making his appearance in Season 2 and Veronica will still have her suspicions of him.
An ex-boyfriend of Veronica will also show up and bring out her even darker side. Which I feel is almost impossible.
Three new cast members will be joining Riverdale next season including Supergirl actress Brit Morgan (Penny Peabody), Charles Melton (the new Reggie Mantle), and Vanessa Morgan (Toni Topaz).
What will be interesting about the Toni Topaz character is that she was hinted as being bisexual in the comics. In the show, they will explore that side of her. Not only that, but she will be a Southside Serpent along with Jughead and will have many of the same interests that he does. Aguirre-Sacasa described her as "trouble" for both Jughead and his relationship with Betty.
Expect a "colder" and "meaner" Cheryl in Season 2. Which again, I feel is almost impossible.
Before they moved on to an audience Q&A, the moderator and the cast reflected on something that I really enjoy about Riverdale: the friendship between the female characters on the show. Oftentimes in teen dramas we see females pitted against each other for various reasons. In Riverdale, we see genuine friendships being formed between the female characters. It's refreshing.
"It's something that Roberto and I talked about from the very beginning which is that dynamic of girls fighting each other is just not interesting. It feels very played out and I think it was important to us that, you know, all the women on the show are very different. You know, but they all find a way to get along because that's what women in this world need to do."
Riverdale Season 2 premieres on October 11, 2017 at 8pm PST.
You can check out the Season1 gag reel below and the Season2 trailer.
Season 1 Gag Reel
Season 2 Trailer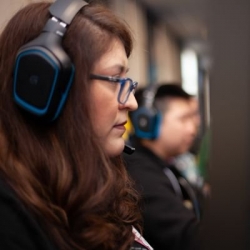 Latest posts by Renee Lopez
(see all)