Are you looking for some tabletop games to take on your next road trip? Summer is coming in hot, and many people opt to travel again! Whether you are going to the beach, hiking or visiting distant family who may or may not have a sizable inheritance buried somewhere on their property, you'll want something to do. We put together a list of games that won't take up too much room in luggage, fun and can be set up in a snap for easy play sessions. 
These games can be found at major retailers, but we ask that you give your local game store a chance first! They offer games at the same price as the box stores but will appreciate your business so much more. 
RELATED: Mystery At Magnolia Gardens: A Hunt A Killer Nancy Drew Mystery
Walkie Talkie
Walkie Talkie is a cooperative tabletop game that will have you and your friends scrambling to remember what words are. The concept is straightforward: shuffle the deck, set the timer and get rid of your cards by matching the color or the letter. The easiest way to understand is to play yourself, and play you will. Walkie Talkie is a fast-paced game that you will never play just one round of! Set up is so fast that you can take it on any summer adventure. 
Game Mechanics:
Cooperative Play
2-8 Players
Party/Word Game
Group Scored
Playtime: 1-4 mins
Walkie Talkie is from developer Devir, and you can find more information here!
Roll Out
Roll Out is another tabletop game that is easy to pick up but hard to put down! I've never only played one round of Roll Out anywhere I've taken it. This game is a bit like if you could sabotage people in Yahtzee so they couldn't finish their scorecard.
Players take turns rolling two dice to either check off the spaces on their checkers by rolling the corresponding numbers or flip their opponent's checkers to make it harder for them to finish their checkers. It is also one of the most affordable games on my lists, so it is easy to take a chance on. 
Game Mechanics:
2 Players
Dice Rolling/Luck 
Playtime: 20-30 mins
Roll Out is from developer Galison, and you can find more information on it here!
Wok and Roll
In Wok and Roll, you and your fellow players are developing menus to become the best zi char (Singaporean for Chinese restaurant) eatery in town! The dice play reminds me of Farkle, wherein every turn, the active player rolls all 6 dice, determining which to keep.
The difference is that once locked in; all the other players have the chance to use only the ingredients on the 4 white dice to cook their dishes. The setup in this one is fast, compact and easy for new players to understand as the menu sets come in either simple or expert. Ready to see which chef will reign supreme? 
Game Mechanics:
Supports solo play
1-5 Players
Dice rolling/Making Matches
Playtime: 30-45 mins
Wok and Roll is from developer Origame, and you can find more information here!
RELATED: 7 Tabletop Games That Bring Spring Indoors
Deep Sea Adventure
Deep Sea Adventure is a nautical adventure about gathering treasure and testing your luck! This is one of the most unique tabletop games I've ever seen, with a mix of resource management and luck-based gameplay. Players dive deeper and deeper while watching your oxygen intake; if you don't have enough, you don't come back up! You can, but you forfeit your treasure, so plan accordingly. 
Game Mechanics:
2-6 Players 
Dice/Luck Based
Token and time-based play
Playtime: 30 mins
Deep Sea Adventure is from developer Oink Games, and you can find more information here!
Skull
Skull is a tabletop game of bluffing that feels like it was invented in a pub about 100 years ago. It packs all of the excitement of games like Spades or Poker without as much skill or setup. Even though Skull is played like a card game, it is played with coasters.
Players play their coasters face down and bet how many cards they can flip in their pile without hitting the hidden skull. How you play is up to you, don't use one of these intricately designed coasters for your beer by mistake! 
Game Mechanics:
3-6 Players
Bidding/Bluffing 
Unique Coaster Based Deck 
Playtime: 15-45 mins
Skull is from developer Asmodee, and you can find more information here!
Tussie Mussie
Tussie Mussie is the most beautiful tabletop game on this list as it was designed by the same art director behind Wingspan, Elizabeth Hargreave. It is based on a Victorian fad that assigned meanings to the flowers that friends and lovers exchanged.
The gameplay is simple but strategy heavy as you try to get your opponent to pick the card you don't want to keep. It is the smallest game on the list and can easily be tucked into your pocket for easy travel. The carrying case looks like a vintage, Victorian package, and the cards look like seed packets. What's not to love?
Game Mechanics:
2-4 Players
Bluffing/ I-Cut-You-Choose card game
Expansions available 
Playtime: 20-30 mins 
Tussie Mussie is from developer Button Shy, and you can find more information here!
Have you played any of these road trip-approved tabletop games? Which one is getting tucked in your luggage this summer? Comment to tell us what you are playing! 
DUNGEONMEISTER: Mixing Alcohol With Tabletop Role Playing Games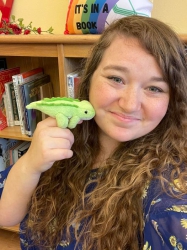 Latest posts by Lauren Darnell
(see all)