While the world deals with the effects of the COVID-19 pandemic, there are good people doing good things to help those in serious need. Reunited Apart is a YouTube series hosted by actor, comedian, and singer Josh Gad. Gad brings together the casts of some of our favorite pop-culture movies such as Splash, Back to the Future , and The Goonies on a virtual call. Naturally, these episodes are not only entertaining, they also serve as a fundraising effort for various charities. Reunited Apart supports DigDeep, a non-profit that works to ensure that every American has clean, running water, Project HOPE, a charity that supports health care workers, and The Center for Disaster Philanthropy.
In a recent tweet, Gad showed a teaser trailer for the next episode of Reunited Apart and it is a nostalgia trip back to Middle Earth.  Gad will chat with the cast of the Lord of the Rings trilogy  on May 31. Confirmed appearances include Elijah Wood, Sean Astin, Orlando Bloom, Billy Boyd, Dominic Monaghan, and Sir Ian McKellen. And, based on this tweet, we'll also see Sean Bean, Andy Serkis, Liv Tyler, Viggo Mortensen, John Rhys-Davies, Miranda Otto, Karl Urban, and director Peter Jackson. Who else might appear? We will see, but according to Gad, expect some surprises.
(UPDATE: The reunion has already streamed. Here is where you can watch it!)
Enjoy this tease! To watch the full trailer for #LordOfTheRings #ReunitedApart go to https://t.co/H5wpKJTjxm NOW and SUBSCRIBE! Catch the entire episode this Sunday at 9:00 AM PT / 12:00 OM EST only at https://t.co/PtdorqAZ6O pic.twitter.com/7G3WbUI6ho

— Josh Gad (@joshgad) May 27, 2020
Personally this brings a lot of joy to my Middle Earth-loving heart. The effort to bring all these phenomenal actors together in one place is impressive. And it's all for a good cause. This is exactly the feel good story we need right now. If you haven't watched the other episodes of Reunited Apart, I would recommend them. My current favorite is the Splash reunion with director Ron Howard, producer Brian Grazer, writers Lowell Ganz and Babaloo Mandel, Tom Hanks, Daryl Hannah, and Eugene Levy. The episode includes a touching tribute to the late, great John Candy.  
RELATED: LABYRINTH Sequel Lands Doctor Strange Director Scott Derrickson
You can watch the epic Lord of the Rings reunion this Sunday on Josh Gad's YouTube channel. The episode starts at 9am PST/12pm EST. In the meantime, you can watch the trailer below and then do a watch party marathon of all the Extended Editions (and only the Extended Editions).
Trailer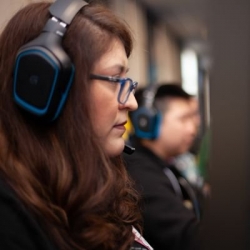 Latest posts by Renee Lopez
(see all)