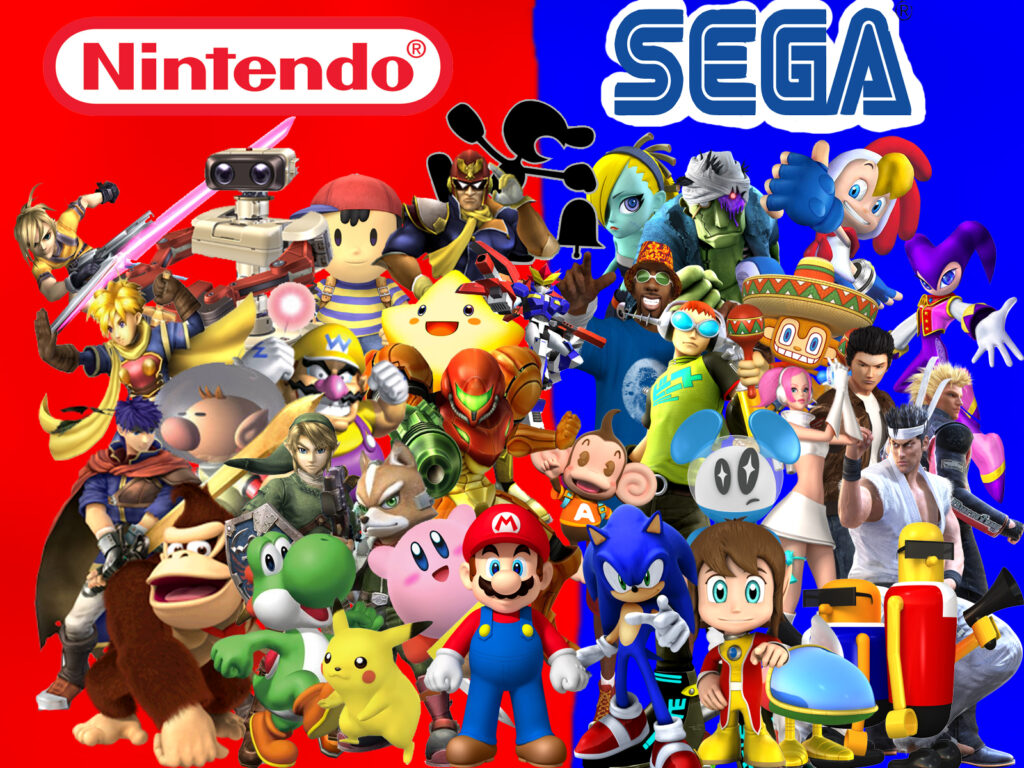 Bust out the Blast Processing, It's time for a rematch! Both weighing in at $99.95 Dollaridoos – Australia Dollars. For those in America it's $59.99 USD for NES (if you can find one) and $49.88 USD for Sega.
In the Blue corner: the Sonic blaster, the Turbo terror, the Sega Mega Drive (Genesis) Classic Game Console!
And in the Red corner: jumping, crashing and throwing fire, hold on to your cartridges get blown away, it's the Nintendo Classic Mini!
(Applause)
Once upon a time, the 80's and 90's were real and not just a thing people reference in pop culture. In this strange and wonderful era, we found ourselves in a battle ground called The Console Wars. A new market had emerged in home entertainment, what was once only available at your local arcade, now took up residence in many homes across the world.
Now available for your nostalgic pleasure comes an opportunity to relive a very unique time in video game history. Nintendo has recently released the Nintendo Classic Mini, preloaded with thirty classic NES titles it offers a decent range of one and two player games. The Sega Mega Drive (Genesis) Classic game console (licenced by Sega but produced by AtGames)  has eighty, an impressive figure. But let's have a look at what's being offered to cash in on your nostalgia.
The NES classic mini is tiny, it really is. About a third of the system's original stature looks adorable, more like a model than an actual console. The cartridge door is purely decoration, which is a little disappointing but understandable considering the console isn't much bigger than one of the original cartridges. Although the controller provided with the system is largely unchanged in terms of size, both hardware components feel very light; not lacking, it just reminds you how for technology has come. The HDMI connection is welcome but the USB power supply does seem a little out of place. Make sure you have a spare USB charger handy. Like many of Nintendo's handheld options, NES classic does not come with a power supply
The Sega Mega Drive Classic game console comes fully loaded. Two wireless controls, (against the NES' one wired) a fully functional cartridge slot, power supply and AV cables… Yes, AV cables. The Sega Classic only has AV output, not the worst thing in the world, it certainly maintains the retro motif. But AV inputs aren't as common as they used to be on many TVs. The wireless controls are similarly retro technology, using infrared remote control technology rather than Bluetooth or other wireless communication. A small switch on the shoulder of each controller let you choose P1 or P2.
Once you've hooked up and booted up you're ready to go, no lengthy set ups or downloads here. The NES interface is fantastic; clean, professional and easy to navigate. The game save function is a blessing for us gamers in our soft autosave era, but you can jot down your password codes or Megaman portrait mosaic to keep things authentic. A number of video playback options are available, depending on your TV or monitor it'll make a huge difference. You might even be inclined to try out the CRT filter for that real retro feel. The selection of games available can also be filtered for two player options or other categories, which is a nice touch. Thirty games can seem small when compared to modern gaming libraries however the selection on offer isn't just a bunch of popular games, it's a curated exhibit of Nintendo's history. They range from the bare bones Mario Bros. arcade game, up to things like Kirby's Adventure; which seems to really push the limits of the generation.
On the other hand the Sega feels clunky, awkward, and bootlegged. Messy display, a lack of guidance really hampers the navigation. Essentially you are presented with an index, select your game and go, that's it. It's not a bad thing, it's a pure gaming device, no helping hands here. The AV display keeps things nice and low-fi for your retro dose, and mono sound output hits the mark well enough. The controllers are pretty mediocre. They work fine, but when your button mashing in Mortal Kombat I can guarantee you'll experience the short comings of Infra-red controls. Another odd direction is the inclusion of around forty games you probably won't remember from the Sega Mega Drive, because they weren't on it. These other games would probably be at home on a Grade school PC in 1998, but if you're handing the controls to any tiny tots it might be a welcome inclusion.
The NES classic is flying off the shelves.  It's firmly embedded in the psyche of many people now of an age wanting to re-live the best bits of their childhood. It's a great chance to get your hands on many of the more obscure (but fantastic) titles. Possessing of the same high quality finish and welcoming shelf presence of the Amiibo figures range, it's easy to see why these will be sold out for a while.
In contrast the Sega feels like a toy, it's a bit cheap and plastic. Without the production budget of Nintendo it might be hard to compete on that field, but the glaring omission of a cartridge slot (even cosmetic) on the NES is a huge oversight. If the Sega didn't have the fully functional cartridge slot, I wouldn't consider it in the same league as the NES classic. But it does, and it is.
Ultimately it comes down to your personal preference, both are great trips down memory lane. The NES Classic production value and polished interface are stellar. Against the larger and more diverse catalogue of games for the Sega, it's balanced battle for your buck.
So after you've wired up your chosen device and wiped the grin from your face, punch that power button and be ready for GLORY!!!