In a bit of surprising news this week, Boss Key Productions, founded by Unreal and Gears of War developer Cliff Bleszinski, announced that the studio is officially shutting down.
In a twitter post, Bleszinski outlined the reasons why the studio had to shut down stating "LawBreakers was a great game that unfortunately failed to gain traction, and, in a last ditch attempt we scramble to do our take on the huge battle royale genre with Radical Heights which was well received, however, it was too little too late."
A statement: pic.twitter.com/LwJD54bCwL

— Cliff Bleszinski (@therealcliffyb) May 14, 2018
And it's true. LawBreakers, a first-person, team-based shooter that was released last August, failed to garner players. While it received favorable views from critics, it was not able to gain enough traction within the gaming community. In April, the studio announced that they failed to "generate the funds necessary to keep it sustained."
With the meteoric rise in popularity of Battle Royale games like Fornite and PUBG, Boss Key tried to get in on the action by releasing Radical Heights. This 80's-themed battle royale game was slowly gaining a dedicated following of players. With it's game show style, 80's electronica music, and amazing retro flair, it looked like Radical Heights could find the niche with players who wanted something new to try. Unfortunately, even a game as totally rad a Radical Heights was unable to save the studio.
RELATED: E3 2018: PlayStation Live Event will Showcase Highly-Anticipated Games
In the statement Bleszinski assured players that the servers for the game will remain up for the time being.
As for what happens next for Bleszinski, he is going to "take some time off and reflect." While his presence will be missed, I'm sure he will be back in no time, refreshed and ready to give us more unique gaming experiences. Of course, we cannot forget the rest of the Boss Key team and we hope that they will soon find permanent spots in other studios.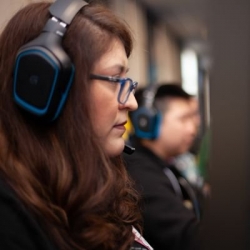 Latest posts by Renee Lopez
(see all)