Kickstarter loves Puffpals: Island Skies, and we do too! This is the first video game from Kickstarter veterans, Fluffnest, set to be the ultimate cozy game for farming simulation lovers. If that is you, listen up because there is limited time to back the Kickstarter.
The game is already funded on Kickstarter and has broken nearly all of its stretch goals, unlocking additional features in the game. So, there's no risk of falling in love with the project without funding. 
RELATED: GGA Game Review: Lilia's Sky Ark Is an Immersive Adventure With Heavy Themes
Speaking of falling in love, why are we so excited? PuffPals: Island Skies is a game about eliciting the nostalgic memories of growing up, exploring the world and discovering everything for the first time! From traversing biomes, meeting new friends and customizing your home, there is no shortage of things to do on these magical floating islands.
The cozy, warm, yet adventurous and curious nature of being a kid is something players should embrace when embarking on their journey in PuffPals: Island Skies. The gameplay, style and soft vibe remind me of Little Dragon Cafe. 
The team behind Puffpals: Island Skies has developed many adorable projects on Kickstarter and loves games like Stardew Valley! Now, because this project will be the group's first video game, they aren't sure when it will be out beyond sometime next year. If you opt to get the game on Steam, you will have the option to play it in early access, and eventually, it will come to the Nintendo Switch (last like most things do, boo). 
Puffpals: Island Skies is on Kickstarter until Friday, May 6, and the campaign closes forever after that. You'll have a chance to buy the game when it launches officially, but like many crowdsourced campaigns, there are special incentives for backing now.
We have dropped the trailer below to get a better look at the game for yourself. When you are ready to back Puffpals: Island Skies, you can find it here!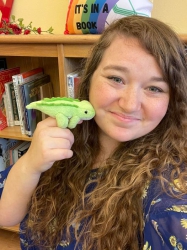 Latest posts by Lauren Darnell
(see all)