Three years ago, Amsterdam-based game developer Guerrilla Games released Horizon Zero Dawn. This week, PlayStation officially announced its sequel: Horizon Forbidden West, releasing for PlayStation 5!
Be warned there are some Horizon Zero Dawn SPOILERS included below. Geek Girl Authority highly encourages you to play the game and experience the story for yourself first.
Still here? Alright! Let's mount our Chargers and ride west!
Horizon Forbidden West (also known as "Horizon II: Forbidden West") continues the story of Nora machine hunter Aloy (Ashly Burch). Players will follow Aloy to the "Forbidden West" beyond the Carja Sundom. There they will explore post-apocalyptic American locations like San Francisco and Yosemite.
"…go not into the Forbidden West!"
What little we know about the Forbidden West from Horizon Zero Dawn comes from a superstitious Carja healer named Considerate Udain. The Forbidden West is any lands west of the great canyons known to the Carja as the Daunt (west of present-day Bryce Canyon National Park, Utah). These lands were declared forbidden by Sun-King Basadid, after his older brother Iriv vanished into the western lands beyond.
Carja survivors spoke of deserts with sands of varying colors, prairies of tall sharp grass, and animals unknown to the Carja. Machines more strange and more terrible than any in the Sundom. The most extraordinary claim was a "lake" one hundred times larger than the Daybrink, with sour and sickening water (assumed to be San Francisco Bay), and an entire dead city of the Old Ones drowned within.
These tales provide more answers than questions, though. The Forbidden West has a reputation as a region of legend and mystery. After all, in a game with machines as fearsome as the T-Rex-like Thunderjaw, what kind of machine would be considered *more* terrible? (For more lore on the Forbidden West, we recommend this YouTube video by Random Side Quest.)
RELATED: RUMOR: Guerrilla Games Planning HORIZON ZERO DAWN Trilogy
New Life and New Dangers
Horizon Forbidden West picks up after Aloy successfully averted global extinction by defeating the malevolent artificial intelligence known as HADES. HADES was then captured by the brilliant and dangerous human named Sylens (Lance Reddick), who sought the knowledge of the Old Ones (ancient humanity) that HADES possesses.
In the Forbidden West, terrestrial and aquatic animals and plants are dying. The apparent culprit are creeping red vines. On top of this ecological disaster, massive storms ravage humans and animals alike. Is HADES behind this devastation? Or are equally sinister forces at work?
On top of all this, Aloy must contend with newer, deadlier machines. It also seems Sylens is up to his old tricks, as a new human faction similar to the Eclipse cult has begun overriding machines to use in warfare. Like the terrifying war elephants of human antiquity, these tribal humans charge into battle with giant robotic mammoths at their command. (Which by the way, give this game serious The Return of the King vibes!)
"No depth I won't explore."
Horizon Forbidden West expands on the already impressive ecological diversity of its predecessor to feature tropical beaches, storm-wracked grasslands, vast deserts, snowy mountains, and even underwater. As seen in the trailer, Aloy has a new re-breathing device allowing her to explore the submerged ruins of San Francisco.
No official release date has been given yet for Horizon Forbidden West's release. However, given that Sony stated that the games showcased at the PS5 reveal event represented the next two years of gaming, we can estimate that Horizon II will likely release in 2021 or 2022.
The PS5 is scheduled for release this Fall 2020. A PC version of Horizon Zero Dawn is scheduled to be released this summer.
What do you think? Are you ready to fire an arrow at a charging robot elephant? There's nothing Geek Girl Authority wouldn't do to share this news about Horizon Forbidden West and all the PS5 games still to come!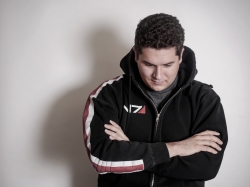 Latest posts by Tyler Boyce
(see all)