After being postponed from last week due to the ongoing Black Lives Matter protests against systemic racism in the United States, yesterday was the day for the PlayStation 5. Sony Interactive Entertainment has revealed not just the next generation of PlayStation video games, but also the long-awaited PS5 console itself. The "future of gaming" looks bright.
"You ever wonder, like, different choices, how we might have ended up?" "No. I like the hand we've been dealt." This dialogue between Nathan Drake and his brother Samuel from Uncharted 4: A Thief's End plays as the years of Sony's previous consoles zoom by: 1994 (PlayStation), 2000 (PlayStation 2), 2006 (PlayStation 3), and 2013 (PlayStation 4). After a quick highlight reel of some of the most beloved games from 25 years and three generations of PlayStation, the stream launched straight into the trailers.
The Games
To start off the announcements, Grand Theft Auto V (Rockstar Games) is getting an "Expanded and Enhanced" edition on PS5 in 2021.
In a brief segment, Jim Ryan (President and CEO of Sony Interactive Entertainment) explained that the stream began with GTA because the franchise has been ported to every single PlayStation console (including now PS5). After a year of sharing the PS5's technical details, Ryan stated that the presentation will focus all on the games and prove why PS5 is the biggest generational transition in the video game industry.
RELATED: PS5: RESIDENT EVIL VILLAGE Trailer Introduces New Horrors Coming in 2021
With that, the audience is literally jolted into the trailer for the sequel to 2018's award-winning Spider-Man (Insomniac Games). As a voice-over from Peter Parker (Yuri Lowenthal) plays, viewers were elated to watch as the camera slowly panned to reveal this game's Spider-Man is not Peter, but Miles Morales (Nadji Jeter)! Spider-Man: Miles Morales is officially added to the PS5 launch lineup this Holiday 2020!
Next, Kazunori Yamauchi (President of Polyphony Digital) introduced Gran Turismo 7. Fans of racing games are sure to be happy about the newest Gran Turismo and its campaign mode. Even if you aren't a fan of Gran Turismo, no one can deny how beautiful and realistic the game looks with PS5 graphics.
As the head of all PlayStation studio partners, Hermen Hulst (Head of Worldwide Studios) proudly declared that video games on the PlayStation 5 would never again have to sacrifice artistic vision due to technical limitations. "It's got a ton of horsepower, which is very easy to unlock," declared Hulst, "And it's a machine that's really easy to develop on."
Confident that PS5 would mark a paradigm shift in what consumers will come to expect from video games, Hulst introduced the latest PlayStation-exclusive franchise: Returnal from Housemarque. The spooky sci-fi game has been described as both "Alien meets Groundhog Day" and the spiritual successor to Dead Space.
Sackboy is back! PlayStation demonstrates it's strength in family-friendly content too with Sackboy: A Big Adventure by Sumo Digital. The game's fun Nintendo-like style is clearly trying to lure younger gamers away from more established family-friendly franchises like Mario.
Before there was Dark Souls, there was Demon's Souls. The progenitor of the Dark Souls franchise was originally released on PS3 in 2009. Now Demon's Souls is getting a next-gen remake courtesy of Bluepoint Games!
The moment you saw those ruined buildings, you knew it was the Horizon Zero Dawn sequel by Guerrilla Games! Horizon II: Forbidden West looks great, it has a metal Torterra, and we're going to California. When can we buy it?!?
RELATED: PS5: PROJECT ATHIA Trailer Shows the Power of PlayStation 5
Other Featured Games
Ratchet & Clank: Rift Apart (Insomniac Games): release TBA
Project Athia (Square Enix/Luminous Productions): release TBA
Stray (BlueTwelve): 2021
Destruction AllStars (Lucid): release TBA
Kena: Bridge of Spirits (Ember Lab): release TBA
Goodbye Volcano High (KO_OP): 2021
Oddworld: Soulstorm (Oddworld Inhabitants): release TBA
Ghostwire: Tokyo (Tango Gameworks): release TBA
JETT: The Far Shore (Superbrothers/Pine Scented): Holiday 2020
Godfall (Counterplay Games): Holiday 2020
Solar Ash (Heart Machine): 2021
Hitman III (IO Interactive): January 2021
Astro's Playroom (SIE Japan Studio/Team ASOBI): release TBA
Little Devil Inside (Neostream): release TBA
NBA 2K21 (Visual Concepts): Fall 2020
Bugsnax (Young Horses, Inc.): Holiday 2020
Deathloop (Arkane Studios): release TBA
Resident Evil VIII: Village (Capcom): 2021
Pragmata (Capcom): 2022
The Console
A few gamers have joked that the PS5 looks just like an early 2000s router or modem. But jokes aside, this thin and curvy console looks gorgeous. It's white and sleek exterior definitely gives it a look that says "next-generation".
A big shock for the reveal was that PS5 actually comes in two editions: Standard Edition (with a disk drive) and a cheaper "Digital Edition" (without a disk drive). So the Digital Edition is optimized for digital downloads and gameplay.
The reveal also showcased PS5 accessories such as the DualSense wireless controller, DualSense charging station, HD camera, Pulse 3D wireless headset, and media remote.
"Welcome to PlayStation 5"
What do you think? Were you excited by the "first glimpse of our future today"? Or are you still utterly convinced that Xbox will still win the next generation of console wars? Either way, keep yourself plugged into Geek Girl Authority for news about PS5 and more!
PS5 – The Future of Gaming Show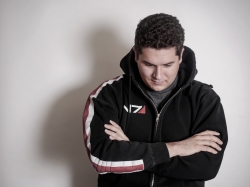 Latest posts by Tyler Boyce
(see all)