Hello again, horror lovers! Your girl is back again with a new Underrated Horror Movie of the Month! If you are new here, welcome! Let me introduce you to what you have stumbled upon. Twice every month, on the second and fourth Friday, I talk about a horror movie that I feel is underrated and underloved. In this edition, I am talking about the 2019 film Polaroid!
About Polaroid
This film follows Bird Fitcher (Kathryn Prescott), a high school student. Bird is not part of the popular crowd; she is instead the quintessential loner character archetype. She loves photography and ends up with a rare polaroid model. At first, she is thrilled. Unfortunately, things quickly take a turn for the worse. Bird discovers anyone she takes a picture of with the camera is in terrible danger. People depicted in the camera's photos meet a terrible, horrific end.
RELATED: Underrated Horror Movie of the Month: The Faculty
Polaroid also stars Tyler Young, Samantha Logan, Keenan Tracey, Priscilla Quintana, Madelaine Petsch and Davi Santos. Javier Botet stars as The Entity and Mitch Pileggi as Sheriff Pembroke.
Lars Klevberg acted as director for the film and Blair Butler wrote the story.
This movie does not have a rating on Rotten Tomatoes. The Audience Score is blank and the Tomatometer score is at zero percent.
Fun fact: Even though this is a supernatural horror movie, it is only rated PG-13.
My thoughts
Unlike many of the movies I talk about here, even though it has poor reviews, viewers don't have a lot of negative things to say. Generally, when a film has a slew of bad reviews, there are always comments about the story, the acting or something equally vital. With Polaroid, the only issues seem to be that many of the scenes are dark, and other similar stories exist.
To the first point, I have seen a trend in quite a few horror movies of dark scenes. I do not particularly love when a movie uses this trend. It makes it difficult to see what is happening. With that said, I do not feel that it is a problem in this movie. There are scenes with dim lighting, particularly toward the end, but it is not overwhelming.
For the next point, there are other similar stories/movies. There are insanely few unique movies, especially in the horror genre. The question becomes which one did it best. Of course, the more overused a story becomes, the less impact it will have.
RELATED: Check out all of our other underrated horror movies!
While there are a few horror movies that revolve around a camera, it is not enough to call the trope oversaturated. Not yet. Additionally, this is the first one I remember seeing where the victim's fate is tied directly to the photograph. If a picture catches fire, the person in it gets burned, etc. Also, if a photo isn't destroyed to the point of the person's death, it regenerates.
Moving on, I liked the acting, especially Kathryn Prescott. The effects were decent and The Entity was creepy. In the beginning, it is a bit slow, but the pace picks up once they discover what the camera is capable of doing.
I enjoyed Polaroid and plan on rewatching it soon.
Final Thoughts
Overall, this is an enjoyable supernatural horror.  If you have not seen it, I highly recommend you do so. It is streaming through Stars and is available to rent through multiple services.
Before you watch Polaroid check out the trailer below. Have you seen this movie? Let us know your thoughts in the comments! Also, don't forget to let me know which horror movie you think I should feature next!
Stay spooky, horror friends!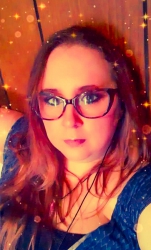 Latest posts by Becca Stalnaker
(see all)