This morning the Pokémon Company treated gamers to another Pokémon Presents Livestream packed with new and exciting content. They provided new details for the comeback of the Pokémon World Championships as well as updates to Pokémon GO, Pokémon UNITE and Pokémon Cafe Remix. Most importantly, though, we got more details about the upcoming main title games, Pokémon Scarlet and Violet. 
World Championships
First up on the agenda was the 2022 Pokémon World Championship. The pinnacle of competitive Pokémon play is coming back after Covid delays. Players have been laboring for the last few years to earn enough points to receive an invitation. 
The Pokémon World Championships feature the best Pokémon TCG, video game and Pokémon UNITE players from around the globe. Players will compete for over a half million dollars in prizes, the title of Pokémon World Champion, and return invitations for the following year's Worlds. The event will be held in London from August 18-21, extended to a four-day event for the first time. 
RELATED: Gamer Gift Ideas for National Video Games Day
Pokémon UNITE
Pokémon UNITE will be celebrating its first anniversary from now through September. In honor of that, new Pokémon is being added, alongside new events and campaigns. A quick battle called Pika Party is coming to the game on Wednesday. It is a specialty event where everyone's Pikachu!
Buzzwole is coming to the game with the abilities to throw and grapple. Finally, players will be gifted UNITE licenses and holloware for Pikachu, Blastoise, Lucario, Snorlax, and Slyveon. Players were also promised additional content through the first-anniversary celebration. 
Pokémon GO
Then Pokemon Presents shared news for the "Pokémon Go Fest" finale event will be held in August, concluding the event's story and bringing Ultra Beast Pokémon to all players. Niantic has also added Daily Adventure Incense, which is active for 15 minutes, to attract new Pokémon, including legendaries! Log on and check out the exciting conclusion to the ongoing story events.
Pokémon Scarlet and Violet
The bulk of the live stream was (thankfully) spent on announcing newly revealed content for Pokémon Scarlet and Violet. We saw confirmations for many returning Pokemon in the gameplay overview and even a few new Pokemon.
RELATED: F2P Friday: Jacktus Green
Most importantly, the internet was gifted with seemly endless meme moments. These golden moments mostly come from the two box art Legendary Pokémon, Koraidon and Miraidon, who can be ridden like motorcycles. Yes, like motorcycles. The new gameplay trailer suggests that we will get access to the new Legendaries relatively early in the game, going against the normal formula. 
The presentation also gave us a name for the new region: Paldea. One region-specific aspect that was shown off was a crystallization feature that seems to be replacing Gigantamax Pokémon. This makes Pokémon "shine like gems," and some can switch types. Speaking of type switches, viewers were shown a new region-specific variation of Wooper, which is a poison type. 
We were also given a peek into how this game's mechanics and storyline have changed with the addition of the multiplayer modes, which can be accessed with up to four players. There will also be a branching storyline that the player can pick from. One is the academy route, shown off in the trailer, and the other two are still not revealed.
Well, what do you think of all the changes? Are you excited about the new region? Share all of your excitement with us in the comments below!
KIRBY'S DREAM BUFFET Gives Fans Second Serving of Kirby for 2022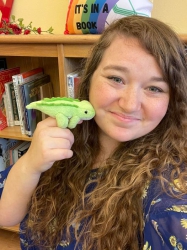 Latest posts by Lauren Darnell
(see all)