Do you have an obsession or something that you geek out about to the point of driving others mad with your rantings? Do you have a morbid fascination with unsolved mysteries or serial killers? Well, you can come sit by me at lunch because I have just the podcast for you!
The Nerdery and Murdery podcast combines my two special interests in the same place, nerd talk, and true crime facts! I love podcasts and I'm generally drawn to story-driven podcasts like Alice Isn't Dead rather than discussions, but Nerdery and Murdery is the exception to my rule. The thing that makes it stand out from other guy-with-a-mic type podcasts is that I never feel talked at. Instead, it feels like when your two best friends are in the front seat talking during a road trip while you are stuck in the back. You feel drawn in like you are a part of the conversation but they just can't hear you answering in the backseat over the radio. This feeling of natural comradery is built from the decades-long friendship of the hosting duo, Zigee Curtis and Geoffrey Wright. 
RELATED: GGA's 6 Favorite Fandom Podcasts That Should Be on Your Radar
Zig brings the nerdery to the table. A life-long proclaimed nerd himself, Zig talks about a new nerdy topic every week. So far in the episodes Zig and Geoff have discussed anything from their favorite coin-operated arcade games to old British TV sitcoms. This section of the podcast is always first to lull the listener into a false sense of security before the depravity of the true-crime segment starts. 
On the other side of the table, is Geoffrey with your Mudery. Every week Geoff brings a new tale of unhinged, true horror. While Geoff may cover well-known true crime events, such as the atrocities of the Green River Killer, the coverage of the events is so complete that I often find myself learning new details I had never heard before. I also truly appreciate how respectfully and tenderly Geoff and Zigee approach these subjects, always keeping in mind that the victims of these events were real people, not a media spectacle. 
Founded in 2021, this podcast is an easy one to catch up on at only 45 episodes as of the writing of this article. This makes it easy to start with their newest episode or work through their backlog if you too find yourself hooked. Geoff and Zig have quickly found their fan base with their witty banter, through research and humorous stories from their past adventures in nerdom.
New episodes release every Sunday and have become a favorite part of my weekend. Because you are getting two podcasts in one there is a really easy transition in the middle that you can pause if needed and come back later without feeling lost. With my hectic schedule I have found their setup ideal and their personalities so infectious I can't miss an episode. Sold on this dynamic duo? You can find Nerdery and Murdery anywhere that podcasts stream or on Spotify here!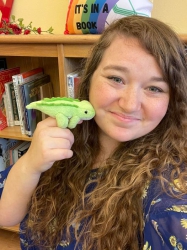 Latest posts by Lauren Darnell
(see all)