Today, Sony showed off some of its upcoming PlayStation 4, PlayStation 5 and PlayStation VR2 games in its latest PlayStation State of Play Livestream. Sony hosts this event several times a year, but this was an especially packed event as it replaced their E3 presentation. 
Both Sony and its third-party partners presented new game trailers, announced game ports and updated fans with news for well-known franchises like Resident Evil and Horizon Forbidden West. This article will focus on the indie titles that deserve your hype. Keep an eye on Geek Girl Authority, as we also cover those announcements. 
The Callisto Protocol
The Callisto Protocol is the first State of Play game to get all of our hype. This too-realistic-for-comfort sci-fi survival game by Striking Distance Studios gives me major Dead Space vibes, and I am here for it. It is a third-person game slated for release on December 2, 2022. 
Rollerdrome
Skating into our second spot for the State of Play roundup is Rollerdrome. The play will be skating to achieve the highest score by combining impressive tricks with eliminations. Rollerdrome is in development at Roll7, the studio behind OlliOlli World, and will be available on August 16, 2022. 
RELATED: 6 Things I Need in a Horizon Forbidden West Sequel Story
Tunic
Tunic is not a new game, but it is new to PlayStation 4 and PlayStation 5 and deserves all the hype. Tunic is an entertaining action-adventure game developed by indie developer Andrew Shouldice and published by Finji. This game was previously an Xbox exclusive but will join the PlayStation library on September 27, 2022. 
Season: A letter to the future
Season: A letter to the future is an indie game from Scavengers Studio that we first saw in 2020. It has pedaled its way back into the spotlight for the State of Play Livestream. The trailer focuses on the game's stylistic art style and casual gameplay that includes snapping photos, biking through fields and meeting strangers on your travels. We can look forward to playing it this autumn.
Stray
Lastly, we have the cyber-punk-inspired cat game Stray from BlueTwelve Studio. Separated from its family, the cat must solve an ancient mystery and find its way home with the help of a small robot friend known as B12. Stray will pounce into our hearts on July 19, 2022. 
Which games earned your hype during the PlayStation State of Play Livestream? Will you pick up any of these new games or going with a more familiar title? Tell us your thoughts in the comments; we love to hear from you, gamers!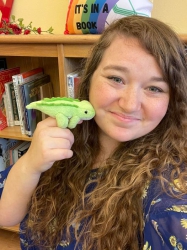 Latest posts by Lauren Darnell
(see all)