Companies across the United States (and indeed, across the world) have been showing their gratitude to people practicing social distancing and staying at home to help contain the spread of the COVID-19 pandemic. One such company is Sony Interactive Entertainment, which is using its platform of home entertainment to launch the Play At Home initiative for PlayStation 4.
Play At Home is a way to thank the PlayStation community for staying home and encourage that community to continue supporting social distancing. First, Play At Home will provide free video games to help keep those at home entertained. Second, Play At Home is establishing a fund to help game developers (especially those from smaller independent studios) who are experiencing financial difficulties due to the pandemic.
RELATED: What You Need to Know From Sony's THE ROAD TO THE PS5
The first two PS4 games released as part of Play At Home are Uncharted: The Nathan Drake Collection and Journey. The choice of games seems apropos. The remastered collection of the first three Uncharted games (Uncharted: Drake's Fortune, Uncharted 2: Among Thieves, and Uncharted 3: Drake's Deception) allows for globe-trotting adventures at a time when most people's worlds have shrunk down to their homes and apartments. Journey's beautiful and timeless message of cooperation, discovery, and making connections across vast distances is more important than ever.
Starting today, both games will be free as digital downloads until May 5, 2020. But the good news is that once the games are downloaded, they are yours to keep! Even after the May 5th deadline! Sony admitted that downloads may take a little longer (so as to not clutter Internet access in the U.S. and Europe needed by healthcare workers to coordinate efforts to combat the Coronavirus), so they appreciate the community's patience.
Indie game developers are vital to the video game industry and the selection of Journey as a free Play At Home game hopefully highlights the contributions of smaller game development studios and raise public sympathy for the hardships that many are currently facing. For the Play At Home Fund, Sony Interactive Entertainment has earmarked $10 million to support Sony's indie developer partners. Sony promises more information about the fund (including eligibility criteria) will be available soon.
Sony also added that Uncharted: The Nathan Drake Collection will be unavailable in Germany and China (due to their unique video game restrictions), and instead the game Knack 2 will be made free in those countries.
Do you like this Play At Home initiative? What video games are you playing during your quarantine? Let Geek Girl Authority know, and pick up GGA for more news on PlayStation and more!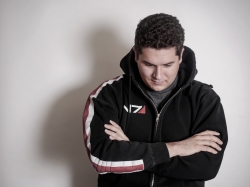 Latest posts by Tyler Boyce
(see all)