Now that we are in the era of Superhero movies, it might be a good time to talk to your little ones about the origins of some of their favorite heroes. Instead of going through Wikipedia or digging through your old comic book collection, Downtown Bookworks has released three new DC picture books for you and your children to enjoy.
The Big Book of Superman, The Big Book of Wonder Woman, and The Big Book of Batman are just what your aspiring Superheroes need to learn more about these amazing superheroes. Each of these picture books highlights each character's back stories as well as their superpowers, allies, villains, gadgets, and vehicles. What's more, the illustrations in each book are classic DC Comic book art which make these books visually appealing and engaging.
The Big Book of Wonder Woman
In The Big Book of Wonder Woman, written by Julie Merberg, children learn about Princess Diana and her unique birth, her upbringing in Themyscira, her training among other Amazonians, and her quest to save the world. As far as her gadgets go, the Invisible Jet, and the Lasso of Truth are covered as well as her impressive list of superpowers. But it's not just about her powers and gadgets, we also gain some insight into her positive and empowering relationships with other female superheroines, and her work with the Justice League.
 "Wonder Woman is the perfect feminist icon, and it warms my heart that she is finally getting her due (thanks Gal Gadot!)," says author Julie Merberg.

The Big Book of Batman
Next is The Big Book of Batman written by Noah Smith. Most of us are very familiar with the tragic back story of Bruce Wayne and his life in Gotham City, but in this book we get a look into his adolescent years specifically the martial arts training and education he received. Filled with fun facts about his Utility Belt, the Batcave, the Batmobile, Batarangs, his allies and his enemies, readers get a look into the fascinating life of the Dark Knight and his mission to bring law and justice back to his beloved city.
"I love that we have some older artwork of Batman smiling. Yes, I know he's the Dark Knight, but I think Bruce Wayne loves being Batman. He devoted his life to fighting crime, and he's good at it," says author Noah Smith.

The Big Book of Superman
Lastly we have The Big Book of Superman written by Noah Smith. While we all know about  Superman's origins and his adolescent life in Smallville, this book tells us a bit more about the Man of Steel's family life with the Kents and the overwhelming responsibility that was placed on him because of his powers. His friends at the Daily Planet, the Fortress of Solitude, his dog Krypto, and the powerful villains he faces like Lex Luthor, Braniac, and General Zod are also featured.
"As an adult, I really appreciate how Superman is a model of responsible use of power. All around us we see people in authority abusing their power and treating people like trash, but I get to present to kids this icon who has more power than anyone but uses it only to help and who lives by an unimpeachable moral code," says the author.

Review
Even though these books are chock full of information, what is important about these books is not the background stories or the interesting facts they reveal, but the message they convey. Yes, these books focus on the heroes, but more importantly they focus on their qualities, their beliefs and values, and their drive to make the world a better place. The books challenge children to think about their own unique qualities and how they can help make a difference in their home and in their communities. As a mother of a 17-month old daughter, I can't think of a better message to communicate to my child then how to be a good person, a strong person, and a wise person.
If you are interested in checking out these books, you can find them on the Downtown Bookworks website. They are $16.99 each and they are suitable for ages 4 and up. You can read these books to smaller children, as the colorful pictures and pages will certainly grab their attention, but I wouldn't leave the children unattended; these pages could easily be ripped by their strong little hands. Downtown Bookworks does offer board books for children 0-3 that are more appropriate and just as interesting.
[Pages courtesy of Downtown Bookworks and Simon & Schuster]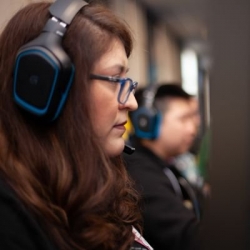 Latest posts by Renee Lopez
(see all)