When it comes to opportunities for playing the newest games you can't do much better than a PAX (Penny-Arcade Expo). Together in one place you get the biggest AAA game companies side-by-side with the smallest indie developers in an environment as full of hype as it's physically possible to get. And while some people go to lay their hands on the bigger game titles, getting in those first demos before anyone else, the real joy is trying out the indie titles. Games so full of heart and dedication you can feel it at the other end of the expo hall.
This year at PAXAustralia saw more than 60 different indie titles, from small teams to individual creators, sharing a prime location in the hall and showing their projects to all curious passers by. Aided by enthusiastic exhibitors, dynamic signage and colourful props these small-studio developers attracted incredible numbers throughout the weekend; helping spread word of mouth and giving their projects great first hand testing.
RELATED: Inside IndieCade 2017: HERALD: AN INTERACTIVE PERIOD DRAMA – Book I & II
Here are only a handful of what we think of as some of the most exciting indie prospects displayed at PAXAus. These are games that caught our interest because they were different, exciting, had something that spoke to us personally. They might not have been released yet, but these are some of the best Indies you haven't played.
Earthlight – Opaque Space
What is it: A VR space-walk simulator
What makes it great: Literally climb across the International Space Station; take photos, repair modules and stare at the Earth below. Experience what it means to be an astronaut, even with your feet safely on solid ground. Just don't get distracted and let go, or you might find yourself floating in space.
When can you get it: TBA
Website: earthlightvr.com
RUMU – Robot House
What is it: As a sentient vacuum cleaner in a futuristic home you awaken with no knowledge of your place in the world and only the house AI to guide you. But something strange is going on…
What makes it great: Emotionally engaging from the start RUMU combines engaging story, beautiful & simple graphics, and characters that hook straight to your heart.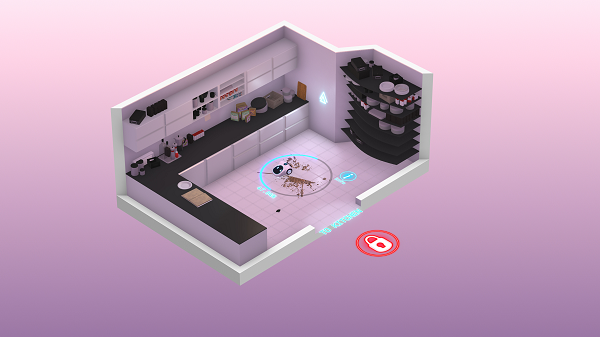 When can you get it: Late 2017
Website: rumugame.com
Projection – ShadowPlayStudios
What is it: A shadow puppet platformer utilising light manipulation as a key mechanic for story telling and gameplay
What makes it great: Not only is the art beautiful but the use of controllable light – you use one control to move the character, one for the light source – provides unique challenges that need both planning and finesse to overcome.
When can you get it: TBA 2017
Website: shadowplaystudios.com
Paperville Panic – Ultimerse
What is it: Action-Adventure VR game where the player is the only firefighter in a paper world where no-one has seen fire before.
What makes it great: Chaotic and hilarious it's great to play something that doesn't take itself seriously. A great use of VR capabilities Paperville Panic gives the player a lot to do, a great world to explore, and an unending supply of laughs.
When can you get it: October 2017
Website: papervillepanic.com
Hand Of Fate 2 – Defiant Development
What is it: A dungeon crawler with deck-building, role playing and fast-paced combat.
What makes it great: As sequel to the original Hand of Fate Defiant Development have taken what made the game great – story, combat and replayability – and infused it with all new mechanics, a host of new characters and an antagonist that is ready to enact their revenge.
When can you get it: 8 November 2017 (It just released)
Website: defiantdev.com/hof2.html
The Gardens Between – The Voxel Agents
What is it: A puzzle game where the player controls time, not the characters
What makes it great: Instead of manipulating the characters, the player gets to alter the very nature of time! Speed it up or reverse it to help Arina and Frendt traverse their way through a string of strange worlds.
When can you get it: TBA 2018
Website: thevoxelagents.com/gardensbetween
Winter's Wake – Cheeseness
What is it: A text adventure in a world with full 360 movement
What makes it great: Winter's Wake drops you in a world with full 360 movement and audio but with only text to guide you through your adventure. Early days of text adventure gaming meets modern narrative techniques in this unique method of storytelling.
When can you get it: TBA
Website: winterswake.com
HEIST – Atomizer Games
What is it: A film-noir style cat burglar game
What makes it great: Pure stealth games are tough to find, with combat mechanics seemingly valued over subterfuge; heist is different. Entirely focused on sneaking, evading capture and carrying out your missions without being caught Heist has a great theme, wonderful jazz soundtrack and plenty of challenge.
When can you get it: TBA
Website: heist-game.com
Latest posts by JamieMarriage
(see all)