In this year of cancelled and postponed events, the gaming community has risen to the challenge of providing safe, online-based conventions and game fests. While it does not compare to the thrill and excitement of being at these conventions in person, it is enough.
Due to everything that has been happening in 2020, it was unclear as to whether the annual PAX West and PAX Australia events would still be happening. Fortunately for us, PAX is happening, and it's going to be virtual.
PAX Online will be September 12-20. Combining the gaming power of PAX Prime and PAX Australia, this nine-day free event will feature live shows, game reveals, Esports tournaments, and Q&A sessions. In a partnership with EGX, the massive UK gaming event, PAX Online will be providing content 24/9. That is 24 hours a day of content.
Penny Arcade and PAX co-founder Jerry Holkins explains:
"PAX has always been a community first, from the attendees, panelists, exhibitors, to the incredible Enforcers who keep PAX going all year. PAX Online brings that shared experience home, along with game reveals, exclusive hands-on experiences, the chance to hear from and speak with your favorite game developers, plus so much more. Even if we can't all meet in Seattle or Melbourne this year, we look forward to reconnecting with our friends and welcoming everyone to our new home, PAX Online. Technically, you're already there."
This will be the first time that PAX will be digital. Of course, going digital brings its own unique challenges. PAX has always prided itself in being the hub where gamers and devs can meet and celebrate their love of games. This year PAX organizers, Penny Arcade and ReedPOP, will strive to recreate that same feeling in the digital space by having custom chats, tournament-aggregation systems, and ways to find groups of gamers throughout the week.
RELATED: STAR WARS CELEBRATION Canceled, Won't Be Back for Two Years
Since its inaugural event in 2004 in Seattle, PAX has grown into a many-headed beast. With the addition of PAX East in Boston (2010), PAX Dev (2011), PAX Australia (2013), PAX South in San Antonio (2015), and PAX Unplugged in Philadelphia (2017), PAX has become one of the largest gaming celebrations in the world. With all these incredible events under their belts, we can only expect the best gaming spectacle that Jerry Holkins and Mike Krahulik can provide.
More information regarding where viewers can watch PAX Online will be released soon. PAX merchandise such as jackets, pins, and hoodies are available for pre-order with new designs. You can go to the official website for more information.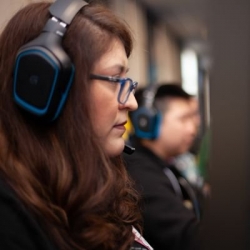 Latest posts by Renee Lopez
(see all)