If you have been watching the Overwatch League, then you know that there has been some unpredictable changes happening from Stage to Stage. Teams who were once favored to win the OWL Championship have faltered, while other teams have crawled their way up to the top. Even still there have been some teams who have done consistently well from the start, while others have yet to find their success in this league.
When things are as unpredictable as the Overwatch League, it's always enlightening to use a mathematical model to predict what can happen next. Coming into the final two weeks of Stage 3, Blizzard Entertainment used the stochastic process to simulate 1 million matches. Using the results, they have been able to make some predictions about the Stage 3 Finals next week and have mathematically eliminated three teams.  
As we know, the Shanghai Dragons, Dallas Fuel, and Florida Mayhem have had a rough, challenging first year in the Overwatch League. A lot of focus was placed Shanghai and when they added new players to their team back in February, including top Zarya player Geguri. With this roster shake-up there was a feeling that they could recover, but with a 0-27 overall record and at 0-7 record in Stage 3, the offseason will be a time of regrouping and perhaps even more restructuring for their team. It will be the same for the Dallas Fuel (6-21 overall, 1-6 Stage 3) and Florida Mayhem (6-21 overall, 2-5 Stage 3). 
RELATED: Shanghai Dragons Sign First Female Pro Gamer in the Overwatch League
Looking at the top of the Stage 3 standings, it looks like the Boston Uprising, Los Angeles Valiant, and New York Excelsior will make it to the Stage 3 playoffs according to these analytics. Boston Uprising (19-8 Overall, 7-0 Stage 3) has made great gains in the league and with their current Stage 3 undefeated record, it looks like the momentum is going their way. But even though Boston has the highest probability of securing the #1 seed going in the Stage 3 Finals, it looks like the New York Excelsior and Los Angeles Valiant will give them a good run. With a 23-3 overall record, and a 5-1 record in Stage 3, New York Excelsior is primed to do well in these finals and through Stage 4. Right now, they are among the favored to win the OWL Championship after pulling a Stage 2 Grand Finals win. The Los Angeles Valiant is still close behind, and despite their 16-11 overall record, they have had a strong showing in Stage 3.   
Of course, we cannot ignore the San Francisco Shock going into the Stage 3 playoffs. They've had a slow start in Stage 1 and Stage 2, but for now, it looks like they may have found the winning formula. And eyes are still on the London Spitfire, Seoul Dynasty, Houston Outlaws, Los Angeles Gladiators, and Philadelphia Fusion and how they will perform in their matches this week and next week.
Stage 3 play resumes today with LA Gladiators versus London Spitfire, San Francisco Shock versus New York Excelsior, and Seoul Dynasty versus Philadelphia Fusion. Friday we'll see Dallas Fuel versus Boston Uprising, Los Angeles Gladiators versus Houston Outlaws, and Los Angeles Valiant versus Florida Mayhem. Lastly on Saturday, we have San Francisco Shock versus London Spitfire, Seoul Dynasty versus New York Excelsior, and Shanghai Dragons versus Philadelphia Fusion.
All games can be seen on the Overwatch League website, Overwatch League Twitch channel or on MLG.com.
[Image courtesy of Blizzard Entertainment]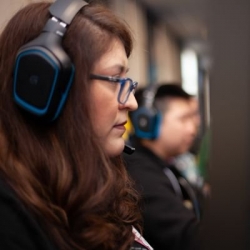 Latest posts by Renee Lopez
(see all)