In case you missed it, tonight was the 20th Annual DICE Awards in Las Vegas. The ceremony closed out the 2017 DICE Summit, a 3-day technology and gaming conference hosted by the Academy of Interactive Arts & Sciences (AIAS).
Blizzard's popular MOBA Overwatch and Naughty Dog's Uncharted 4: A Thief's End led all nominees with four wins a piece. Overwatch took home the coveted Game of the Year award and also Action Game of the Year, Outstanding Achievement in Online Gameplay and Outstanding Achievement in Game Design. Uncharted 4 took home awards for Outstanding Achievement in Animation, Outstanding Achievement in Story, Outstanding technical Achievement and Adventure Game of the Year.  Indie Game Inside also had a strong showing winning three awards including the DICE Sprite Award.
Below is the list of all the nominees, the winners are in bold.
Game Of The Year
Battlefield 1
INSIDE

WINNER

– Overwatch 
Pokémon Go
Uncharted 4: A Thief's End
Outstanding Achievement in Game Direction
1979 Revolution: Black Friday
Battlefield 1
WINNER – INSIDE 
The Last Guardian
Uncharted 4: A Thief's End
D.I.C.E Sprite Award
1979 Revolution: Black Friday
Firewatch
WINNER – INSIDE 
SUPERHOT
That Dragon, Cancer
Adventure Game of the Year
Firewatch
INSIDE
King's Quest: The Complete Collection
The Last Guardian
WINNER – Uncharted 4: A Thief's End 
Action Game of the Year
Battlefield 1
DOOM
Gears of War 4
WINNER – Overwatch 
Titanfall 2
Mobile Game of the Year
Clash Royale
Crashlands
Gardenscapes – New Acres
WINNER – Pokémon Go 
Reigns
Outstanding Achievement in Animation
INSIDE
The Last Guardian
Overwatch
Street Fighter V
WINNER – Uncharted 4: A Thief's End 
Outstanding Achievement in Art Direction
Battlefield 1
Firewatch
WINNER – INSIDE 
The Last Guardian
Uncharted 4: A Thief's End
Outstanding Achievement in Character
Call of Duty: Infinite Warfare – Nick Reyes
Firewatch – Delilah
Firewatch – Henry
WINNER – The Last Guardian – Trico 
Uncharted 4: A Thief's End – Nathan Drake
Outstanding Achievement in Original Music Composition
ABZÛ
Battlefield 1
WINNER – DOOM 
The Last Guardian
Titanfall 2
Outstanding Achievement in Sound Design
WINNER – Battlefield 1 
INSIDE
The Last Guardian
Quantum Break
Uncharted 4: A Thief's End
Outstanding Achievement in Story
Firewatch
INSIDE
Oxenfree
That Dragon, Cancer
WINNER – Uncharted 4: A Thief's End 
Outstanding Technical Achievement
Battlefield 1
No Man's Sky
Overwatch
Titanfall 2
WINNER – Uncharted 4: A Thief's End 
Family Game of the Year
Dragon Quest Builders
LEGO Star Wars: The Force Awakens
WINNER – Ratchet & Clank 
Rock Band Rivals
Super Mario Maker for Nintendo 3DS
Fighting Game of the Year
EA Sports UFC 2
Guilty Gear Xrd -Revelator-
Killer Instinct: Season 3
Pokkén Tournament
WINNER – Street Fighter V
Racing Game of the Year
DRIVECLUB VR
WINNER – Forza Horizons 3 
Role-Playing/Massively Multiplayer Game of the Year
WINNER – Dark Souls 3 
Deus Ex: Mankind Divided
Hyper Light Drifter
Tom Clancy's The Division
World of Warcraft: Legion
Sports Game of the Year
EA Sports FIFA 17
Madden NFL 17
MLB The Show 16
NBA 2K17
WINNER – Steep 
Strategy/Simulation Game of the Year
The Banner Saga 2
Deus Ex GO
Fire Emblem™ Fates
WINNER – Sid Meier's Civilization VI 
XCOM 2
Handheld Game of the Year
Dragon Quest Builders
Fire Emblem™ Fates
Kirby: Planet Robobot
WINNER – Pokémon Sun and Moon 
Severed
Outstanding Achievement in Online Gameplay
Battlefield 1
Hearthstone: Heroes of Warcraft
WINNER – Overwatch 
Titanfall 2
Tom Clancy's The Division
Outstanding Achievement in Game Design
I Expect You To Die
INSIDE
WINNER – Overwatch 
Owlboy
Uncharted 4: A Thief's End
Immersive Reality Game of the Year
WINNER – SUPERHOT VR
Eagle Flight
I Expect You To Die
The Lab
Job Simulator
Immersive Reality Technical Achievement
WINNER – Eagle Flight
I Expect You To Die
Job Simulator
Tilt Brush
SUPERHOT VR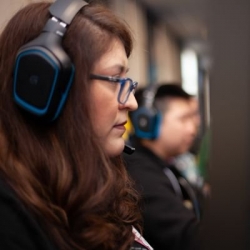 Latest posts by Renee Lopez
(see all)