When Games Are Art: Ori and the Will of the Wisps
by Aysel Atamdede 
When hyping video games, many critics and fans throw out words like "masterpiece" or "groundbreaking" to describe the many aspects that contribute to critical and commercial success. Thanks to innovations in rendering and next-gen platforms constantly improving graphics, it's no doubt the quality of games has skyrocketed recently.
Hyper-realistic character models and breathtaking scenery is all well and good. Still, the heart of an artistic touch is when a game takes full advantage of the stylistic freedom the medium can offer. A game's mood, atmosphere and story are shaped by developers' artistic approach to make it a unique experience.
Not many games move me to tears, let alone openly weep at how beautiful the entire game is as the credits roll. For all the AAA games I've played in recent years, nothing has put my emotions through the grinder like Moon Studios' 2020 masterpiece Ori and the Will of the Wisps.
RELATED: Horizon Zero Dawn: Retracing Aloy's Steps Once More
Moon Studios was a small studio founded in 2010 by industry veterans Thomas Mahler and Gennadiy Korol, who built the studio after seeing the success of independent games that presented unique art styles and immersive storytelling like Castle Crashers and Limbo.
After a couple of prototype games, the studio entered development on the Metroidvania platformer and critically acclaimed Ori and the Blind Forest, released in 2015. Ori excelled in art direction and musical score, painting a world in which the player controls Ori, a lost spirit, as they navigate through several unique environments to restore the heart of the Nibel forest's Spirit Tree.
Underneath the mechanics and puzzle-solving, Ori tells the story of found family, forgiveness and new beginnings through atmospheric cutscenes and incredible 2D artwork. Riding the success of their first game, Moon Studios entered development on a sequel, Ori and the Will of the Wisps, announced at E3 2017.
Will of the Wisps improved upon the first game in leaps and bounds. It revolutionized the combat and movement mechanics, introduced a variety of new playstyles and ability upgrades and introduced a blend of 2D art with 3D models in multilayered backgrounds to add depth to the side-scrolling. It also built upon the first game's story, adding a variety of new NPCs with which to interact. But where it becomes a masterpiece is the storytelling itself.
We assume control of Ori once more in a direct continuation of the previous story, as we watch their found family raise the newest addition: Ku, a baby owl who yearns to fly despite a damaged wing. When Ku's first flight ends up separating her and Ori from each other, Ori must face several threats to find her before she succumbs to decay that's slowly eating away at the land of Niwen.
Through cinematics and flashbacks, we learn the sad story of Shriek, an owl orphaned at birth and corrupted by the decay, as she stalks Niwen and its inhabitants — a cruel parallel and inversion of Ku's mother's story from the first game.
Where the story elevates from simply emotional to devastatingly heartfelt comes from facing, and overcoming, loss. Many of Niwen's inhabitants have lost loved ones, and Ori's journey is not immune to that either. The mood of the story shifts and twists, accompanied by composer Gareth Coker's hauntingly immersive soundtrack.
By the time the credits roll, we see how Ori's journey comes full circle to embrace the light and life that guided them throughout both games.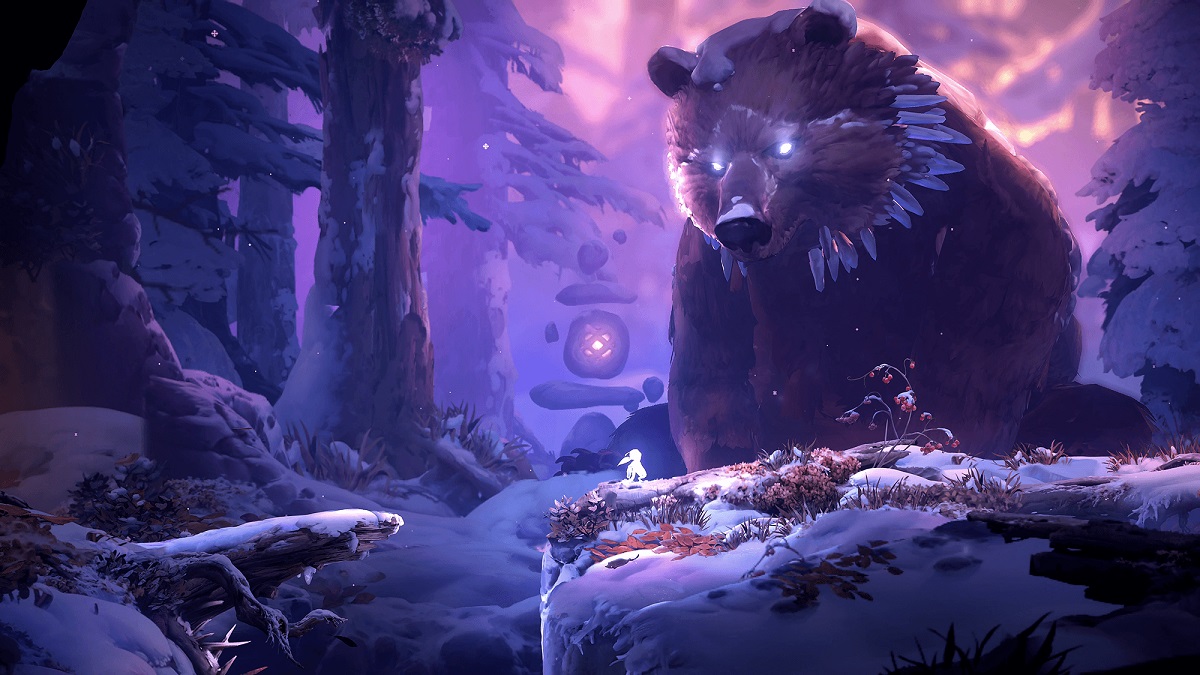 There are a few instances wherein I wish I could wipe a game from my memory to experience the full emotional impact of the story all over again. No matter how many times I've replayed Will of the Wisps, I'm a sobbing mess every time the credits song starts playing.
RELATED: 9 Things You Should Know Before Starting Cozy Grove
Moon Studios has found its niche and undoubtedly set the bar astronomically high for future endeavors with two stunning games under its belt. For anyone looking for a cinematic and immersive gameplay experience, Ori and the Blind Forest is the perfect introduction to a world full of rich colors, emotional storytelling and haunting music that comes to an ultimately satisfying close with Ori and the Will of the Wisps.
Both Ori games are available on Windows, Xbox and Nintendo Switch. You can purchase both games' soundtracks through their Steam store pages, and you can delve into the mindblowing production process in Future Press's art book, The Art of Ori and the Will of the Wisps.
POKÉMON LEGENDS ARCEUS: Building the Modern PokéWorld
Latest posts by Geek Girl Authority
(see all)