The spookiest time of year is finally upon us, and it is going to be a hallmark month for gamers this year. We've got everything from fresh entries in trusted franchises to new favorites just waiting to be downloaded. Check out October's most anticipated video games. Which ones are on your must-play list, and which did we miss?
RELATED: GGA's Most Anticipated Video Games Dropping in 2023
Hellboy Web of Wyrd
Assassin's Creed Mirage
Another year and another installment to one of Ubisoft's greatest franchises ever. Assassin's Creed Mirage takes players to a Middle Eastern world as we learn more about Basim, who was introduced in Assassin's Creed Valhalla. Ubisoft's developers on the project have come forward to say that this installment brings the franchise back to what it is known for, including linear storytelling and stealth. This return makes us excited to dive back into the action.
Assassin's Creed Mirage releases on October 5, 2023, for PC through the Epic Game Store, PS4, PS5, Xbox One and Xbox Series X/S.
RELATED: Looking for your next free-to-play video game? Check out our recommendations on F2P Friday!
Super Mario Bros. Wonder
Nintendo fans were captivated by the wonderous potential of the new powerups in the upcoming Super Mario Bros. Wonder game. These game-changing items can make some wonderfully weird stuff happen. Witness pipes coming alive, wreak havoc on the Flower Kingdom as a giant Spike-Ball, and much more will be revealed soon. 
Super Mario Bros. Wonder will be released exclusively for the Nintendo Switch on October 20, 2023. 
Alan Wake 2
October means spooky season is upon us, and what better way to celebrate than with Remedy Entertainment's Alan Wake 2? The upcoming horror survival video game is the long-awaited sequel to the original Alan Wake from 2010. The prolific crime writer is back along with the mysterious town of Bright Falls. It's the perfect game to dive into while hiding under a big blanket, sipping some hot cider and hoping the monsters don't make their way out of the game.
Alan Wake 2 returns just in time for Halloween on October 27, 2023, for PC through the Epic Game Store, PS5 and Xbox Series X/S.
RELATED: 8 Things for The Last of Us Viewers Who Haven't Played the Game to Know
World of Horror
If you think, "I've heard of this game before…" chances are you have. Panstasz's World of Horror has been in early access since 2019, and it looks like we are finally getting its official release. This little bundle of terror is a 1-bit love letter to the works of Junji Ito and H.P. Lovecraft. We've had the chance to explore the RPG and believe us when we tell you it's absolutely worth checking out.
World of Horror officially releases on October 19, 2023, for PC through Steam, PS4, PS5 and the Nintendo Switch.
Spider-Man 2
The most anticipated game of the month is Spider-Man 2, well, at least for PS5 owners. The Spider-Men, Peter Parker and Miles Morales enter new chapters in their lives as they balance their responsibilities as protectors of Marvel's New York. As Harry Osborn, Peter's best friend, returns to his life and Miles looks to build his future beyond high school, the relationship between our heroes is tested and strained as the Symbiote appears to threaten them, the city and the ones they love.
Spider-Man 2 invites players to be better together exclusively on the PS5 on October 20, 2023.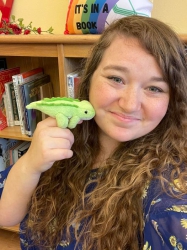 Latest posts by Lauren Darnell
(see all)