New images for the Obi-Wan Kenobi series were dropped a month before its highly anticipated debut. We have seen much of what will be the same for Obi-Wan Kenobi, such as Ewan McGregor and Hayden Christensen's return to their roles as Obi-Wan and Darth Vader, respectively. Still, it's the new material we are most excited about.
Seeing the Star Wars cinematic universe expanded on the small screen has been a dream. These photos come from Total Film and highlight some of what we've watched in the trailer. 
RELATED: 5 Ways To Get Your Obi-Wan Kenobi Fix Before the Disney Plus Series Drops
Similar live-action projects like The Mandalorian and The Book of Boba Fett have set high expectations for the legacy character's return. The series will, of course, spend time on Tatooine, as suggested in the trailer and old Ben Solo's starting location in Star Wars: A New Hope. This is supported by the first image in our grouping, showing off Obi-Wan in the all too familiar desert location. 
Next, we get a better picture of the neon-drenched planet of Daiyu. We imagine this is where Obi-Wan will find himself in the most trouble, as attracting the attention of high-profile enemies confirmed in the series would be too difficult to conceal on Tatooine. 
The final Obi-Wan Kenobi photo shows Rupert Friend as the Grand Inquisitor, a high-ranking menace from the Empire who will already be familiar to Star Wars Rebels fans. He's one potential threat to Obi-Wan, alongside Moses Ingram's Reva, another Inquisitor, and his lost brother-in-arms Darth Vadar. 
The first two episodes of Obi-Wan Kenobi will premiere on Disney Plus on Friday, May 27, with subsequent episodes premiering on Wednesdays. Do you have any predictions for the show? We want to hear your theories in the comments! 
OBI-WAN KENOBI's Natalie Holt Is First Woman Composer to Score a Live-Action Star Wars Project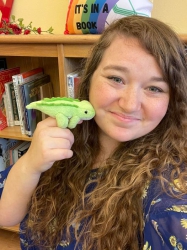 Latest posts by Lauren Darnell
(see all)