At NYCC 2019, Square Enix and Crystal Dynamics announced that Kamala Khan, also known as Ms. Marvel, will be joining Marvel's Avengers. She will be the sixth playable character in the game.
"Kamala is an inspired and perfectly fitting choice to join the ranks of, and reassemble, Earth's Mightiest Heroes," said Bill Rosemann, VP of Creative at Marvel Games in a press release. "Perhaps more than any other character invented over the past decade, Ms. Marvel has not only charmed the hearts of longtime True Believers, but her unique mix of classic Marvel heroic elements and modern cultural relevancy has resulted in a headline-generating cultural icon."
After she first appeared in Captain Marvel #14 in 2013, Kamala Khan became the first Muslim character to headline her own comic book series in February 2014. In Marvel's Avengers, we are introduced to her character during A-Day, the day when the Avengers announced their new headquarters in San Francisco. Due to a catastrophic turn of events, Kalama is exposed to the Terrigen Mist, which gives her polymorphic powers. After the tragedy of A-Day, and the death of Captain America, the Avengers disbanded.
RELATED: NYCC 2019: Fernando Bustamante Discusses the New YU-GI-OH LEGACY OF THE DUELIST LINK EVOLUTION
The story picks up 5 years later and Kamala has uncovered a conspiracy at the hands of Advanced Idea Mechanics (AIM). In the trailer we see Kamala approach Bruce Banner with her evidence, and she is ultimately introduced to Tony Stark. It is clear that tensions are still high between the former Avengers, but the proof that Kamala has just might be what the Avengers need to reassemble.
"I think Kamala is a perfect fit for a game like this, since she sees the Marvel world the same way we do as fans and players," said G. Willow Wilson, co-creator of Ms. Marvel stated. "Kamala allows us to imagine what we ourselves would do if we suddenly discovered we had superpowers and got to stand alongside our heroes in their time of greatest need."
You can watch the trailer below. Marvel's Avengers is slated to be released on May 15, 2020 on the PlayStation 4, Xbox One, PC, and Google Stadia. Pre-orders are available now.  
Screenshots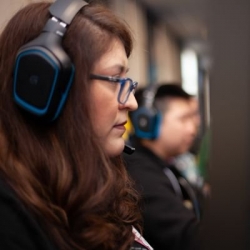 Latest posts by Renee Lopez
(see all)