New details were revealed about The Dragon Prince at their San Diego Comic Con panel…save one. Fans of the animated Netflix series were clamoring to know: "When?!?" Today at their New York City Comic Con panel, fans of this fantasy adventure show got their answer!
RELATED – SDCC 2019: Beyond the Border in THE DRAGON PRINCE Season 3
The episodes for "Book 3: Sun" will be released on Netflix on November 22, 2019. The announcement also featured a new poster for the upcoming season, featuring the show's heroes: the dragon Zym, the elf Rayla, the humans Ezran and Callum, and the glow toad Bait. Callum is shown casting Sky Magic, confirming that he has indeed unlocked the ability to cast Primal Magic…the first-known human to ever cast magic without the use of a Primal Stone or Dark Magic. Zym gives a determined roar as lightning rips across the darkened sky. Most notable is Ezran, who is wearing his father's crown. No doubt much of these episodes will focus on the reign of "King Ezran" as he adjusts to his new responsibilities as ruler of Katolis.
All this news comes with the knowledge that Book 3 is the last of the season's currently ordered by Netflix. Fans were quick to flock to social media with "#GiveUsTheSaga", asking Netflix to renew the series for the remaining four Books of the seven-book long "saga" of The Dragon Prince. Given how much "Book 2: Sky" wowed critics and fans alike, and improved upon "Book 1: Moon", Book 3 has a lot of expectations and a lot riding on its success.
What do you think? Are you excited to watch Book 3 of The Dragon Prince on November 22nd? Or are you still debating whether to add it to your binge-list? Either way, let Geek Girl Authority know in the comments below, and share your thoughts about this unique show. And stayed tuned to Geek Girl Authority for more news on New York Comic Con and all your favorite shows!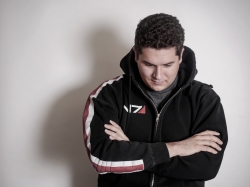 Latest posts by Tyler Boyce
(see all)