"APATHY…GREED…CORRUPTION…POWER…HOPE. BATMAN BEYOND…" When I was a kid watching Saturday morning cartoons, these words were burned into my memory, set to one of the most metal and industrial songs I've ever heard. These words embody the future of Gotham City. The future that is…Batman Beyond! And today at New York Comic Con that animated cyberpunk superhero show was celebrated with a reunion celebrating the show's 20th anniversary.
For those familiar with the critically-acclaimed Batman: The Animated Series, Batman Beyond premiered in 1999 and leapt ahead of its predecessor to the year 2039. Gotham City is now a megalopolis with staggeringly-high buildings and flying cars. Bruce Wayne (Kevin Conroy) retired his crime-fighting cowl twenty years ago (this year in 2019, in fact). Over the decades, most of Batman's allies and enemies are retired, incarcerated, or dead. When a high school student named Terry McGinnis (Will Friedle) steals Bruce's high-tech Batsuit to bring a corrupt businessman to justice for the murder of Terry's father, Terry convinces the elderly Bruce to allow him to take on the mantle of Batman. Realizing that crime and corruption have run rampant in Gotham after Batman's decades-long absence, Bruce agrees to mentor Terry. Bruce officially hires Terry as his new assistant and chauffeur, to help explain Terry's prolonged absences as Batman patrols the city.
In addition to being the first show in the DC Animated Universe (DCAU) to focus on a teenage superhero (having been released before Static Shock), Batman Beyond not only introduced more sci-fi themes into the Batman legacy, but also explored the darker side of Batman. Key elements such as emotions, personal relationships, fear of the unknown, and even Bruce Wayne's psychology were all issues that influenced the series. As a result, Batman Beyond was darker than the kid-friendly Batman cartoon it was conceived as, and considerably darker than most children's television of its time. This resulted in mixed reactions initially, but the show went on to receive a cult following and critical acclaim. The series ended its run in 2001, when Warner Bros. cancelled plans for a fourth season in order to produce the upcoming Justice League animated series.
Warner Home Entertainment has decided to celebrate the 20th Anniversary by releasing a Limited Edition Batman Beyond: The Complete Series (including the Batman Beyond: Return of the Joker movie and a roundtable discussion with the show's creators) Blu-ray box set.
At the NYCC panel, showrunners Alan Burnett and James Tucker shared the creative freedoms and challenges they had with rebuilding Batman from the ground-up. "It was pandemonium for one thing, because…what did we have, a month?" remarked Tucker, "It seemed like we finished one storyboard for…[The New Batman Adventures], and the very next month, we had to have the first episode of the two-part pilot…!"
Alan Burnett pointed out that unusual for a TV show, there was no series bible. ("Bible" is a screenwriting term for the document containing references for all the show's characters, settings, and other key elements.) "We just got into it," shared Burnett, "And the fact was that it had a good foundation from the beginning, and building on it was a lot of fun." They also shared that producer Bruce Timm made it clear that he didn't want to recycle the villains from "BTAS": Terry deserved his own "Gallery of Rogues".
While it would have been easier to put a futuristic spin on old favorites like the Joker, the writers and designers had a challenge to not fall back into their old Batman "isms". And the art and storyboards that came out of that process was later applied to the Justice League and Justice League: Unlimited shows.
The showrunners had a lot of fun distinguishing between two very different heroes: the younger, rebellious Terry and the older, curmudgeonly Bruce. To which an "irritable" Conroy growled, "Get off my lawn!" Friedle quickly shot back, "I'm not getting off your lawn!"
When casting director Andrea Romano set about casting Terry, she was looking for a decidedly youthful voice. "And then Bruce Timm's wife Marta said, 'There's this young actor on this show called Boy Meets World…?'," Romano recounts, as the audience bursts into cheers and laughter. Romano stated that Friedle being a TV actor worked to his benefit, because voice directors can watch a film/TV actor's work to determine if they are good actors. (Louder for the people in the back, Andrea: voice acting is *ACTING*!)
Friedle's audition was reading solo copy (just Terry's lines alone), and the final callback was with Conroy (to see if Conroy and the Terry-to-be could work well together). "I had casting approval," Conroy haughtily declared. Friedle gestured to Conroy: "Shakespearean actor…" Friedle gestured to himself: "Boy Meets World…SLIGHTLY different!" Conroy praised Romano's casting as "Warner Bros.'s secret weapon". Conroy recalled how almost all the voice actors were very generous to each other: both inside and outside of the recording booth. Conroy credited Romano with bringing those actors together. "Well, selfishly," Romano humbly responded, "I think about [whom] do I want to spend four hours in an enclosed room with every week…?"
The panel concluded taking half a dozen or so questions from the audience. A particularly memorable moment was when Conroy was asked to recount what it was like getting the role of an older Bruce Wayne. "Well, Andrea called and said, 'Great news! We've got a new series, you've got a new series!' I said, 'Fantastic! More work!' She said, 'You're not Batman.' (audience laughs) I said, 'WHAT?!? What happened?!?" She said, 'You got old.' (audience gasps and laughs) I said, 'I'm FORTY!!! Forty's not old?!?' She said, 'In Hollywood, it is.'." A horrified Friedle jumps in, "I'm forty-three!" Conroy reassured him with a quote from the show, "…Welcome to my world!"
Did you watch Batman Beyond back in the day? Or are you looking forward to binging it with the upcoming Blu-ray set? Either way, Batman Beyond: The Complete Series releases this month on October 29, 2019! Let us know in the comments below what you think about Batman Beyond, and stay tuned to Geek Girl Authority for more news and panels out of New York Comic Con 2019!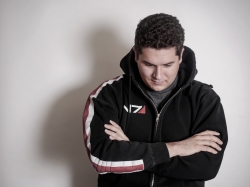 Latest posts by Tyler Boyce
(see all)