If you've got a gamer, you may not see them for the holidays. Well, unless you have one of the new releases from their wishlist under the tree. October gave us many fantastic new titles, but the year isn't over yet, and November has big games on the horizon. 
The following list contains some of the most anticipated titles coming out for the rest of 2022. Something new is releasing on every console, so whether you are a PlayStation fan, an Xbox main or a Nintendo Switch diehard, there's plenty to look forward to. 
The Chant – November 3
Horror games flood the market during October, so seeing one release in November is refreshing. The Chant combines survival, action and exploration mechanics in a single-player narrative adventure game.
RELATED: 8 Horror Franchises We Need in Dead by Daylight
The gameplay looks like a good balance of classic survival-crafting horror elements and the newer style of narrative-exploratory horror game elements. Mix all of that with occult themes, set it on a remote island and you've got a game! The Chant will be yours to play on November 3. 
(Platforms: Microsoft Windows, Xbox Series X and Series S, PlayStation 5)
Sonic Frontiers – November 8
All Sonic fans have ever wanted, nay deserved, was a great 3-D Sonic game. Now, with the release of Sonic Frontiers, this possibility is finally within our grasp.
The official synopsis reads: "In search of the missing Chaos Emeralds, Sonic becomes stranded on an island teeming with unusual creatures. Wield the ancients' power as you battle hordes of powerful enemies on your path to uncover the mysteries across the Starfall Islands."
RELATED: The Op Games Board Games One-Stop Shop Gift Guide
I don't know why, but I've got a really good feeling about this game. We will find out if my hunch is correct when Sonic Frontiers releases on November 8.
(Platforms: Nintendo Switch, PlayStation 5, PlayStation 4, Xbox One, Xbox Series X and Series S, Microsoft Windows)
God of War Ragnarök – November 9
We all know God of War Ragnarök will be the game of the year, right? Join Kratos and Atreus on a mythic journey for answers before Ragnarök arrives. Together, father and son must put everything on the line as they journey to each of the Nine Realms in God of War Ragnarök, the brutal and epic sequel in the action franchise. Get your play on when the game releases on November 9.
(Platforms: PlayStation 4, PlayStation 5)
Goat Simulator 3 – November 17
Goat Simulator 3 promises to be all the chaotic mayhem a goat can cause and more. The first game plays a bit like a skater game, with pointing being scored for destruction rather than tricks. Get ready to kick ass and eat grass on November 17. 
(Platforms: Microsoft Windows, Xbox Series X and Series S, PlayStation 5)
Pokémon Scarlet & Violet – November 18
Explore a wide-open world at your own pace and traverse land, water and air by riding on the form-shifting Legendary Pokémon Koraidon. Choose Sprigatito, Fuecoco or Quaxly to be your first partner Pokémon before embarking on your journey through Paldea. Get ready to start (or restart) your Pokémon quest on November 18. 
(Platform: Nintendo Switch)
RELATED: 6 Things I Need in a Horizon Forbidden West Sequel Story
Just Dance 2023 – November 22
I unapologetically love dance and rhythm games. The song list for the 2023 version of this dance classic game is shaping up to be one of the best yet. The announced tracklist includes hits from Taylor Swift, Bruno Mars, Evanescence and more. Prepare to just dance when this game releases on November 22. 
(Platforms: Nintendo Switch, Xbox Series X and Series S, PlayStation 5)
Evil West – November 22
I'm excited for Evil West like I was for the release of Horizon Zero Dawn. The gameplay looks sharp and well-tuned, promising visceral and satisfying combat. While the bloody gunplay is eye-catching, I'm more drawn to the story. 
Evil West puts you in the saddle of Jesse Rentier, a young and skilled vampire slayer. This narrative-driven, third-person is set in an alternate version of the Old West. Prepare for the vampire-infested American frontier, releasing November 22.
(Platforms: PlayStation 5, PlayStation 4, Xbox One, Xbox Series X and Series S, Microsoft Windows)
RELATED: 8 Indie Games With Outstanding LGBTQ+ Representation
What are you adding to your holiday wishlist? Will you wait for these titles to appear in your stocking, or will you buy them at launch? I don't think I'll be waiting for God of War Ragnarök.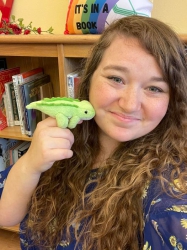 Latest posts by Lauren Darnell
(see all)