Looking for Nintendo Switch games you can finish in an afternoon? Sometimes you don't have time or the bandwidth to sink hundreds of hours into a complex, intense narrative gaming experience, and there's no shame! You've come to the right place.
There are many games with a solid narrative-driven storyline and unique gameplay mechanics that you can finish in a single afternoon! So whether you are starting a road trip or need something short to play for your day off, this list has you covered!
RELATED: 10 Essential Tips All Kirby and the Forgotten Land Beginners Should Know
Donut County (2018)
Donut County is a hilarious puzzle game where you play as a raccoon who uses holes to swallow up everything in sight. The gameplay is straightforward, and the puzzles are fun to work through. Some of the levels are faster to figure out than others, but the game moves along briskly. There is a story strung over the levels, but this is still a quick play even with sitting through the hilarious cut scenes. 
Platforms: Nintendo Switch, PlayStation 4, Android, iOS, Microsoft Windows, Xbox One, Mac
Developers: Annapurna Interactive, Iam8bit Inc
Untitled Goose Game (2019)
The Untitled Goose Game is a stealth puzzle game that took the internet by storm at release. The player controls a mischievous goose (as if there is any other kind) as it torments a lovely country town. There are secrets to discover, objectives to complete and utter chaos to invoke.
The game has some replayability to stretch its shelf life, but you can complete the main game in one sitting. One of my favorite things is a couch co-op mode so that you can double the trouble. Honk, honk!
Platforms: Nintendo Switch, PlayStation 4, macOS, Xbox One
Developers: House House, Panic
Serial Cleaner (2017)
Serial Cleaner is a stealth puzzle game set in the 1970s where you play as The Cleaner, a guy who cleans up crimes after mob hits and stuff. The premise was enough to hook me, but the gameplay is legitimately fascinating. The player works to avoid the police, collect the evidence, dispose of the bodies and avoid getting caught.
If you have to restart a level, the locations of the items are randomly reassigned, which makes it feel fresh even after many resets. The graphics are cartoony and thus are not overly graphic, but the tone might not be for the faint of heart. 
Platforms: Nintendo Switch, PlayStation 4, Xbox One, iOS
Developer: iFun4all
Firewatch (2016)
Firewatch is a single-player first-person mystery set in the Wyoming wilderness, where your only emotional lifeline is the person on the other end of a handheld radio. You play as Henry, a man who has joined the forest fire watch to escape his problems or a summer.
Because the game takes place in 1989, the technology is limited and leaves the players to discover the story through journal entries, radio conversations and exploration while in isolation. You'll finish this one in an afternoon just because you can't put it down. 
Platforms: Nintendo Switch, Microsoft Windows, OS X, Linux, PlayStation 4, Xbox One
Developers: Campo Santo, Panic
RELATED: When Games Are Art: Ori and the Will of the Wisps
Under Leaves (2017)
Under Leaves is a hidden object game at its core. The thing that makes it so unique, however, is the gorgeous hand-drawn watercolor illustrations and a soothing soundscape. An animal icon represents each level on the globe map, giving you a hint about the theme before it opens. The game takes you from the bottom of the ocean to the treetops of the savannah. There was already one expansion on the main game, but it still wasn't enough. I need more. 
Platforms: Nintendo Switch, Xbox Series X and Series S, Android
Developers: Circus Atos, RedDeerGames
Unpacking (2021)
Unpacking is a puzzle game where the player must dig through boxes to set up the protagonist's living space. The game gives you no story dialogue to help you unpack its mysteries but instead builds on your own emotions of starting over, moving out and moving on. Unpacking doesn't push you to make fast decisions, so the pacing is up to you, but it is easy to finish all at once. 
Platforms: Nintendo Switch, macOS, Xbox One, Microsoft Windows, Linux, Xbox Series X and Series S
Developer: Witch Beam
Turnip Boy Commits Tax Evasion (2021)

Have you ever wanted to be a tax-evading, document-ripping menace to society? Turnip Boy is undoubtedly the character for you. This game is an action-adventure puzzle about an adorable root vegetable's journey to uncover what's spoiling this garden community and rise to tear down the corrupt vegetable government! You might wish for a longer run-time to commit crimes and wreak havoc, but one afternoon is enough. 
Platforms: Nintendo Switch, Microsoft Windows, Linux
Developers: 
Snoozy Kazoo, Graffiti Games 
Florence (2018)
Florence is an interactive, visual novel set over a fantastic soundtrack. Players follow a young woman in her early 20s as she falls in love and lives her life. Florence boasts puzzles and minigames that come together to tell a relatable, moving story without any words. The gameplay is simple and easy to pick up, making it the perfect game to start during a lazy afternoon at home. 
Platforms: Nintendo Switch, iOS, Android, Microsoft Windows, macOS, Macintosh operating systems
Developer: Mountains, Annapurna Interactive
Have you taken an afternoon to play any of these Nintendo Switch games yet? Which one will you start first? Comment below and tell us what you think!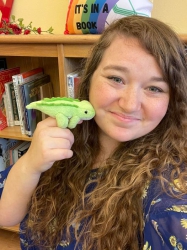 Latest posts by Lauren Darnell
(see all)