If you were excited about the new World of Warcraft expansion, Battle for Azeroth, when it was announced at BlizzCon 2017, then you'll love this news. Blizzard recently announced that its seventh WoW expansion will be released on August 14th.
"In Battle for Azeroth, the stakes for the Alliance and the Horde are incredibly high, and a player's faction will have a more meaningful impact on their experience than in any World of Warcraft expansion to date," said Mike Morhaime, CEO and cofounder of Blizzard Entertainment, in a press release. "Whether they're journeying to unexplored lands to recruit allies or fighting to secure war resources, players will redefine what it truly means to be 'For the Horde' or 'For the Alliance' when the expansion arrives this August."
The game is currently in Alpha with hundreds of players getting a hands-on look at most of the new content. The expansion promises an epic clash between the Horde and the Alliance along with new, playable allied races. The level cap will be raised to 120 and a new component will be introduced to the game: Azerite. Deep below the surface of Azeroth lies this new, powerful resource that the Alliance and Horde are frantic to get their hands on.
The game will be available in standard edition ($49.99), Digital Deluxe ($69.99), and Collector's Edition ($99.99). The Digital Deluxe edition will come with a slew of in-game bonuses for different Blizzard games. This includes a new mounts, the Seabraid Stallion for the Alliance, the Gilded Ravasaur for the Horde, and Tottle the baby Tortollan pet. Hearthstone players will get an "Azeroth is Burning" card back, Heroes of the Storm players will get a Primal Flamesaber mount, there will be new Horde and Alliance sprays for StarCraft II, and Overwatch players will have access to faction-themed extras.
RELATED: City of Brass is Heading to Consoles and PC in May
The Collector's Edition will be a little different for this expansion compared to previous expansions. Instead of the art book and behind-the-scenes DVD, purchasers will receive a Horde and Alliance double-sided Mark of Allegiance emblem, and a hardcover double-sided book, Elegy and A Good War, which tells the story of the Burning of Teldrassil from both the Horde and Alliance side. The Battle for Azeroth digital soundtrack will also be included.
Other features of the game includes a two new kingdoms, Zandalar (Horde) and Kul Tiras (Alliance), island expeditions, 20-player Warfronts, new armor customizations, and a 120 level cap increase.
The Collector's Edition is available for preorder right now and anyone who preorders the digital copy of Battle of Azeroth will also be able to get the current expansion, Legion, for free.
For more information about the game, visit the website. You can watch the date announcement video below.
[Images courtesy of Blizzard Entertainment]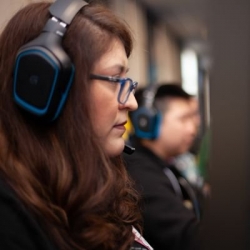 Latest posts by Renee Lopez
(see all)