Fans of Heroes of the Storm received some great news when Blizzard announced that the next major content update will be loaded with new skins, new mounts, a new battleground, and not one, but TWO new Heroes.
Assault on Volskaya Foundry      
The new battleground will be the Volskaya Foundry, a familiar Overwatch map. Teams will lead an assault on the Foundry which will be a three-lane control Battleground with capture points, moving conveyor belts, and giant mechs that you can pilot for you team. The capture points will work a little bit like Braxis Holdout, where you must wait for the points to charge in order to make use of the powerful mech called the Triglav Protector. If the point is contested, the charge stops until the enemy is defeated.
Operating the Protector will feel a lot like the Dragon Knight or the Garden Terror, but with one major difference: you will need two people to control it, one to pilot and one to operate the gun. The Protector will be an overpowering force, causing area damage to structures, minions, and Heroes. It will also be able to shield itself and allied heroes within its it proximity. Other attacks include a Projectile Cannon (for AoE damage), Gatling Cannon (single target damage), and Scorching Laser which causes delayed damage to all enemies within the laser's path.
One of the key features of the game are the conveyor belts which, by the looks of it, will provide a challenge for the Heroes as they try to navigate the map and hit their objective. In some ways, it can help a team as they try to position themselves for skirmishes, but on the other hand, players might find themselves out of position, making them vulnerable to attack or just keeping them out of the brawl.
The map will also have five mercenary camps, each with their own abilities to help teams make their pushes into enemy territory.
New Heroes
There will also be two new Heroes entering the Nexus. The first one will be Ana Amari, the Overwatch sniper, who will serve as a burst healer in HotS. The second Hero will be the volatile Junkrat, a range assassin. Ana has already been announced, but it looks like Junkrat will be coming soon. Ana's abilities and traits will be discussed in detail in another post.  
New Brawl
There will also be a new brawl with this latest content update called Bash 'Em Smash 'Em Robots. It is described as a "fast-paced and fun robot-bashing brawl" where teams start with a mech and those mechs keep spawning for non-stop crazy robot action.
New Skins, New Mounts, New Portraits, and New Sprays
There will also be new skins and mounts including Shrike Ana, Destroyer D.Va, and Commandant Varian. New mounts include the Celestial Raptor and an Invisible Horse Mount. There will also be some new sprays and portraits to collect. We'll get into the new skins, mounts. portraits, and sprays in a follow-up post.  
There's no word yet on when Assault on Volskaya Foundry will launch, but expect it to happen soon.
In the meantime, you can watch the announcement trailer below as well as a Volskaya Foundry overview. You can also see some awesome screenshots below in the Gallery.
What do you think of these updates? Personally, I'm excited to get my hands on new Heroes and a new battleground. While I've been having fun with my Zul'Jin and Sylvanas Heroes, there are times when you need a change.
Gallery
[Photo Credits: Blizzard Entertainment]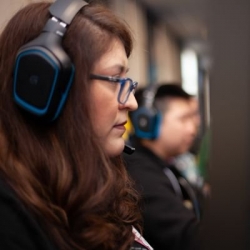 Latest posts by Renee Lopez
(see all)