Marvel's WandaVision is just over a month away! If you're just as excited for the Disney Plus series as I am, then you'll love the slew of new posters that hit the social media stream this week!
Marvel shared said posters on their official Twitter account. Each one reveals pertinent details for WandaVision fans to analyze. Namely, the peeling wallpaper present in every poster. Obviously, that represents the intricate world Wanda (Elizabeth Olsen) created and how it's fraying at the seams. There's also a TV stand with Wanda and Vision (Paul Bettany) on the screen in each poster.
Now, the first two posters showcase the doting couple in black and white, indicating they're in the 1950s. The second poster has a hanging light fixture that's housing the Mind stone. You know, the one that used to reside in Vision's head that Thanos so callously ripped out in Avengers: Infinity War. The final poster is purely '70s in house decor and style. Additionally, Wanda and Vision are on the TV screen in full technicolor. Vision is sporting some serious sideburns too.
RELATED: WandaVision Gets the '50s Sitcom Treatment in EW's Exclusive Photos
What I find interesting is that the poster with the hanging Mind stone also boasts Vision on TV in his true form, whereas the other posters feature him as "human." But the peeling wallpaper (and broken wood paneling in the last poster) is a detail I dig. A painful reminder that Wanda's vision (Get it?) is ultimately just that — a vision. Something tells me that, aside from the sitcom antics, my heart will be torn asunder. Gotta have drama to balance out the levity. Marvel repeatedly stomped on my heart with Avengers: Endgame enough to last a lifetime. 
You can take a peek at the new posters below. WandaVision stars Elizabeth Olsen, Paul Bettany, Kathryn Hahn, Kat Dennings, Teyonah Parris and Randall Park. The series will alter our realities Friday, January 15, only on Disney Plus.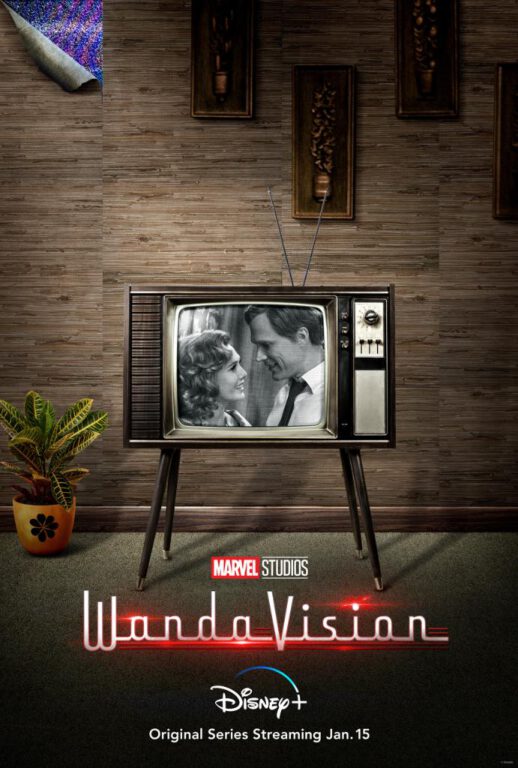 What do you think of the new WandaVision posters? Sound off in the comments below!
Latest posts by Melody McCune
(see all)