Paris Games Week (PGW) starts today and PlayStation kicked off the festivities by debuting several trailers for their upcoming games. PlayStation teased us last week when they announced that "E3 was just the beginning." Well, we now know what they mean.  
While it has been a year since Naughty Dog confirmed that they were working on The Last of Us Part II, the sequel to 2013's phenomenal The Last of Us, we had not heard much about the game other than it would continue the story of Joel and Ellie after the events of the first game. Today, we got our first glimpse of the game.
Related: Uncharted: The Lost Legacy Release Date Announced
You can see the trailer below, but a warning, it is violent, and dark, and completely in line with the hopelessness and despair that permeated throughout the first game. We are introduced to a few new characters, and despite some fan theories, Ellie is not featured in this trailer. We see that a group of dangerous fanatics has risen. They drag an unnamed woman to their campsite and wrap a noose around her neck. The leader boldly claims,"They are nested with sin…" Before the leader can do anything, her men bring in another woman, Yara. "Where is the other Apostate?" the leader demands. Moments later, Yara and the other woman are saved by a bow-wielding sharpshooter. Chaos erupts and the three women come out victorious, until they are suddenly attacked by a clicker.
There was no additional information revealed such as who these people are, when this story takes place, or where Joel and Ellie are, but in a related video, Creative Director Neil Druckman explains a little bit about the new The Last if Us Part II trailer.
"You know, last year at the PlayStation Experience we talked about the theme of hate and how much of this story revolves around that. This, you could see in a lot of ways, speaks to that. So instead of giving you an adjacent puzzle piece about Ellie and Joel's journey, we want to go somewhere else and give you something else and see how people make the connections."
Druckman continued, "But as far as who these characters are, what their conflict is, where this takes place, when this takes place, we're going to leave it up to the fans for now."
And if you're thinking that it might be awhile before we see any more footage from the new game, we are promised that we won't have to wait long. Now that Uncharted: The Lost Legacy has been released, Naughty Dog is now putting all their resources into The Last of Us Part II.
You can watch the PGW 2017 trailer and the Druckman interview below.
[Photo Credit: Naughty Dog]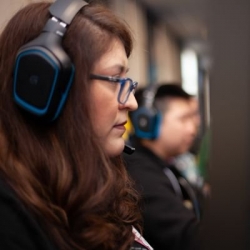 Latest posts by Renee Lopez
(see all)