Blizzard just announced a new expansion to their popular collectible card game (CCG) Hearthstone. Set in Gilneas, The Witchwood will feature 135 new cards, new gameplay mechanics, Worgen cards, two new keywords, and eve/odd cards. The expansion will be released in April.
As described in the announcement: "Dark magic has twisted the creatures of the forest and set them loose upon the Gilnean capital in Azeroth, but King Genn Greymane and his lycanthropic subjects won't make for easy prey. The citizens of this proud kingdom, who can shapeshift into ferocious wolf-beasts known as worgen, are bringing the fight to The Witchwood with tooth and claw—and soon, Hearthstone players will join the pack and help them face down the horrors within."
RELATED: The Genre-Defining Classic StarCraft is Turning 20 and Everyone's Celebrating
What's unique about this announcement is that the team, led by Game Director Ben Brode, took to the woods near Irvine to film a homage to The Blair Witch Project. In this announcement we find Brode and Lead Artist Ben Thompson in search for Lead Designer Dave Kosak. They soon find an old projector that plays the new introduction to The Witchwood. From there the gang tries to make their way out of the woods, only to come across key cards that will be available in this new expansion. I won't spoil the ending but a certain OP card is introduced. It's fun, it's campy, and it's always great to see Blizzard have a good time with their games.
New Features
Keyword: Echo
Cards with the Echo keyword will create a copy of themselves in the player's hand when they are played. These cards can be played again and again until the end of the turn.
Keyword: Rush
Minions cards with the Rush keyword can attack other minions immediately, but they have to wait until the next turn to attack the enemy Hero.
Even/Off-Cost Cards
Playing even- or odd-cost cards will yield rewards depending on which one you choose. There will also be two neutral Legendary minions who will offer rewards.  
Genn Greymane: If your deck has only even-cost cards at the start of the game, your starting Hero Power costs one mana.
Baku the Mooneater: If your deck has only odd-cost cards at the start of the game, your Hero Power is upgraded.
Worgen Cards
Worgen cards are a rather unique set of cards that will swap Health and Attack on each turn if they stay in the player's hand.  So you can either play the card when it has high health, or when it has high attack.
Monster Hunt
There will also be a single-player mode called Monster Hunt. This will be similar to the Dungeon Run from Kobolds & Catacombs. Players will have to defeat bosses to collect their bounties and stay alive as they move further along in the campaign. There will also be unique heroes including Tracker, Cannoneer, Houndmaster, and Time-Tinker. These heroes will have a special hero power and cards.
Monster Hunt will be released two weeks after the expansion launches.
Year of the Raven
This new expansion also marks a new Hearthstone year. During the Year of the Raven, a new set of cards will be available in Standard format. The cards sets from Whispers of the Old Gods, One Night in Karazhan, and Mean Streets of Gadgetzan, will be exclusive to Wild format. The packs will be available for purchase in the Blizzard Shop.
Lastly, Lunara will be a new Druid Hero in Hearthstone. Players will need to win 10 games in Standard form to earn her.
The Witchwood is currently available for pre-purchase for $49.99. This pre-purchase is a special 50-pack bundle that comes with an additional 20 card packs, as well as a new "In A Dark Wood" card back for free. You can find out more information about the expansion at the Hearthstone website.
You can watch the announcement video below as well as check out some card art in the Gallery.
Gallery
[Images courtesy of Blizzard Entertainment]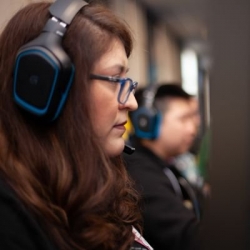 Latest posts by Renee Lopez
(see all)